Smooth and Creamy Semi-Homemade Alfredo Lasagna Roll-Ups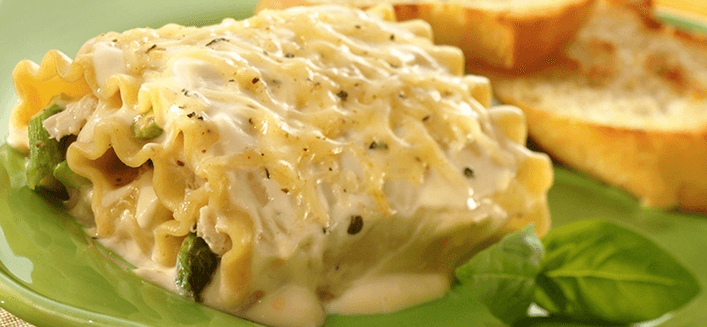 These Semi-Homemade Alfredo Lasagna Roll-Ups are a dream come true.
This dish makes a beautiful presentation and will give the impression that you have spent all day in the kitchen.  Don't you love it when you can find a recipe that lets you cut corners in preparation time while still creating a delicious meal. I call it Semi-Homemade because it spares you the more time consuming parts like preparing a sauce and cooking a chicken.  And then you just get to add the easy to prepare ingredients like asparagus and lasagna noodles.
This recipe is very flexible and you can always switch to a tomato sauce if you prefer.  If you decide to go with the Alfredo Sauce, please don't just get any old sauce.  Find one that you really like.  If you don't like the taste when you sample it, you're not going to like it poured all over your lasagna roll-ups either.   I did some research for us and found this taste test.
Impress your family and friends with this delicious and beautifully prepared meal.
ALFREDO LASAGNA ROLL-UPS
Ingredients
8 lasagna noodles
1 cup diagonally sliced asparagus spears (1/2-inch pieces)
1 jar (15 oz.) Alfredo Sauce, divided
2 cups (8 oz.) Sargento® Fine Cut Shredded Mozzarella Cheese, divided (or whichever brand you prefer)
1-1/2 cups shredded or chopped cooked chicken**
Basil sprigs or chopped fresh basil (optional)
**You can use leftover chicken or pick up a rotisserie chicken.
Directions
Cook lasagna noodles according to package directions. Drain; rinse under cold water to stop the cooking. Arrange cooked noodles on work surface or on sheets of waxed paper. Cook asparagus in simmering water or in microwave oven until crisp-tender, 1 to 2 minutes. Drain; rinse with cold water. Drain again; set aside.
Meanwhile, spread 3/4 cup pasta sauce in bottom of 13 x 9-inch baking dish or pan. In medium bowl, combine 1-1/4 cups cheese, 1/2 cup pasta sauce, asparagus and chicken; mix well. Spoon heaping 1/3 cup mixture down center of each lasagna noodle. Roll up; place seam-side down in dish. Spoon remaining sauce over rolls.
Cover dish with foil. Bake in preheated 375°F oven 30 minutes or until heated through. Uncover; sprinkle remaining 3/4 cup cheese over rolls. Continue baking 5 minutes or until cheese is melted. Garnish with basil, if desired.
Enjoy!