Bacon Wrapped Guacamole Stuffed Chicken – Hello!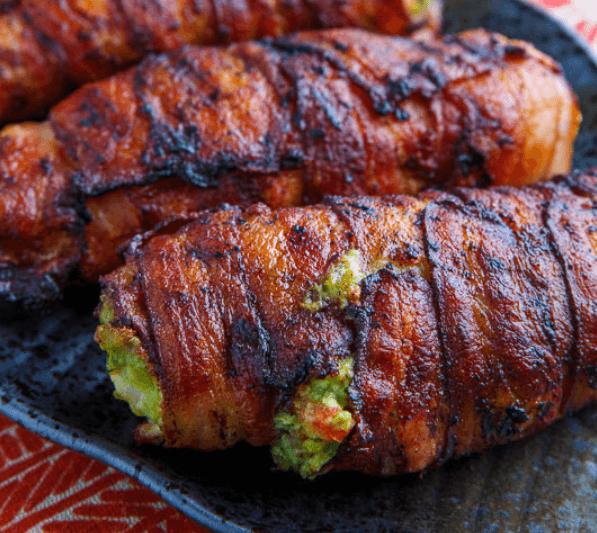 |
This Bacon Wrapped Guacamole Stuffed Chicken is the total package!
And if you want to add even more over the top deliciousness…melt some of your favorite cheese on top, of course!
If you've seen some of the other recipes on this site, you know that I am a total fan of anything avocado.  Therefore, I was thrilled to find this one and I hope you will love it too.
I think Kevin has really outdone himself on this recipe.  It is so full of flavor, it is beyond good.
If you do decide to add the cheese, once the bacon is crisp, just put your chicken packages back on the grill for a few more minutes until the cheese melts…yum.
Give yourself and your family and friends a treat, try this delicious recipe soon!
Bacon Wrapped Guacamole Stuffed Chicken
Prep Time: 10 minutes
Cook Time: 20 minutes
Total Time: 30 minutes
Servings: 4
Ingredients
4 (6 ounce) chicken breasts, butterflied or pounded thin (to about 1/4 " thickness)
salt and pepper to taste
1/2 cup guacamole
8 slices bacon
Directions
Lay the chicken flat, season the outside with salt and pepper, spread 1/4 of the guacamole on each of the chicken breasts, roll them up and wrap each in 2 slices of bacon.
Grill over indirect medium heat, with the lid down, until the bacon is crispy and the chicken is cooked (160F to 165F), about 20-30 minutes, or bake in a preheated 400F/200C oven on a wire rack on a baking pan until cooked, about 20-30 minutes, turning the oven to broil for the last few minutes to ensure that the bacon is crispy.
Important Note From Kevin:  The essential thing about this recipe is to get the bacon nice and crispy and this is easy on the grill but if you are stuck indoors you can either pan fry the wrapped chicken and then place it in the oven or you can cook it in the oven and then turn the oven up to broil.
Option: Replace the salt and pepper with your favourite seasoning blend.
Option: Add flavors to the guacamole like sundried tomatoes or blue cheese, etc.
Facts: Calories 338, Fat 17.5g (Saturated 3.6g, Trans 0), Cholesterol 104mg, Sodium 670mg, Carbs 4.3g (Fiber 2g, Sugars 1g), Protein 44.5g