The Best Eggs Benedict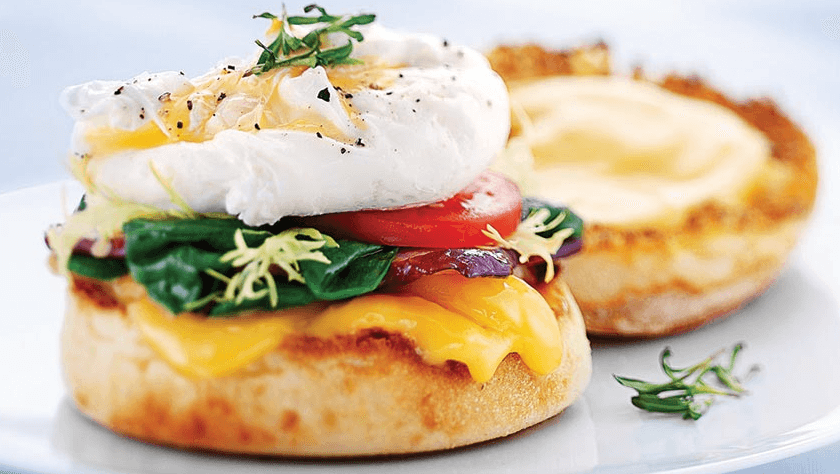 |
The Good, Better, Best of Eggs Benedict!
I think this great looking picture says it all.
Let's not have just one cheese when we can have two…yes!  This masterpiece starts with a Wisconsin Sharp Cheddar cheese spread, Gouda cheese, Canadian bacon and, of course, a poached egg.  Add a little sliced tomato and a touch of spinach for color.   Then put all of this deliciousness on top of an English muffin…yes!
Enjoy this yummy dish on Father's Day, Mother's day or why not any day!
THE BENEDICT
COOKING DIRECTIONS
Heat 3-4 quarts water to just below boiling point. Add vinegar and pinch of salt. Gently stir the water. Lower heat so water is simmering. Crack eggs into the water one at a time and poach gently for 4-5 minutes. Remove with slotted spoon and season with salt and pepper.
Meanwhile, heat griddle or skillet over medium heat; fry Canadian bacon until lightly browned. Remove from griddle; set bacon aside. Add 1 tablespoon butter to skillet. Spread each bottom half of English muffins with 1 tablespoon Sharp Cheddar cheese spread. Place in heated skillet. Top each bottom in pan with 1 slice Gouda, about 1 ounce spinach, 2 slices Canadian bacon, and 1 slice tomato. Cook over medium heat until cheese is melted. Remove to a plate and top each with a poached egg. Serve open-faced with remaining muffin halves, toasted and buttered, on the side.
INGREDIENTS
Serves 4
3 tablespoons white wine vinegar
4 eggs
Salt and pepper
8 slices Canadian bacon
4 tablespoons butter, divided
4 English muffins, split
4 tablespoons Wisconsin Sharp Cheddar Cheese Spread, at room temperature
4 slices Wisconsin Gouda cheese
4 ounces fresh spinach leaves
1 tomato, sliced