Luscious Lemon Garlic Shrimp Scampi
You're going to love this Lemon Garlic Shrimp Scampi!
What's not to love with this combination of garlic, butter, olive oil, lemon and yes, even more garlic.  What I especially like/love about this recipe (besides the garlic) is the parmesan bread crumb topping.  This adds a totally yummy crunch factor to an already delicious dish.
Add this 30 minute meal to your dinner menu this week and make everyone happy!
LEMON GARLIC SHRIMP SCAMPI
Ingredients
3 garlic cloves, minced
¼ cup butter
¼ cup olive oil
1 pound uncooked medium shrimp, peeled and deveined
¼ cup lemon juice
½ teaspoon pepper
¼ teaspoon dried oregano
½ cup grated Parmesan cheese
¼ cup dry bread crumbs
¼ cup minced fresh parsley
8 oz linguine pasta, cooked (or pasta of choice)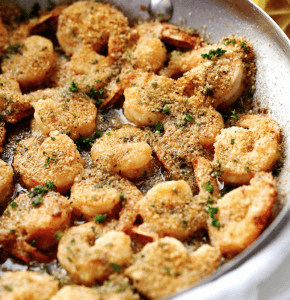 Instructions
In a 10 inch skillet, saute garlic in butter and oil for 1-2 minutes. Add the shrimp, lemon juice, and pepper. Cook and stir until the shrimp turn pink.
Combine pepper, oregano, parmesan cheese, bread crumbs and parsley in a small bowl. Sprinkle on top of the shrimp and broil for 2-3 minutes until it starts to brown. Serve with hot pasta