Ooey Gooey Caramel Apple Grilled Cheese Sandwich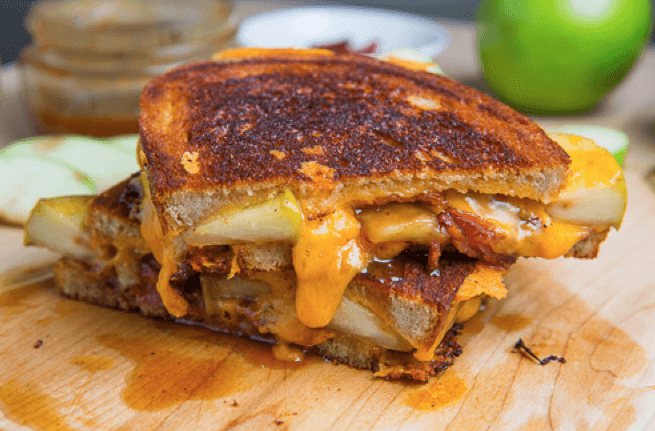 |
When you combine ooey gooey melted Cheddar Cheese, Sliced Apples and Caramel Sauce, you have a sandwich made in heaven.
And, if you want to make it even more amazing, add some salty, crisp bacon to the taste of tart apples and sweet caramel sauce…yum!
Try this sandwich for a Football Game Day Party or whenever you're looking for the perfect comfort food.  Enjoy!
Caramel Apple Grilled Cheese Sandwich (with Bacon)
Prep Time: 5 minutes Cook Time: 10 minutes Total Time: 15 minutes
*Servings: 1
Ingredients
1 tablespoon butter
2 slices of bread
2 slices cheddar (or 1/2 cup shredded)
1/2 apple, cored and sliced
1 tablespoon caramel sauce **
2 strips bacon, cut into 1 inch pieces and cooked (bacon is optional)
Directions
Heat a pan over medium heat.
Butter the outside side of each slice of bread, place one slice in the pan buttered side down, top with half of the cheese, the apple, caramel sauce, bacon, the remaining cheese and finally the other slice of bread.
Grill until golden brown on both sides and the cheese is melted, about 2-4 minutes per side.
Option: If you prefer the apples to be tender, and they stay in the sandwich better that way, saute them in a touch of oil or bacon grease until just tender, about 1-2 minutes per side, before adding them to the sandwich.
Option: Serve with extra caramel sauce for dipping along with a few apple slices.
*Yummy Tummy Zone Note:  If you're making this for a party, I'd probably make at least 5x more and then cut each sandwiches into 4 pieces so that there is enough for everyone to enjoy.
**You can always get store bought caramel sauce but here is the link for Kevin's yummy sauce.