Corned Beef Grilled Cheese with Guinness Caramelized Onions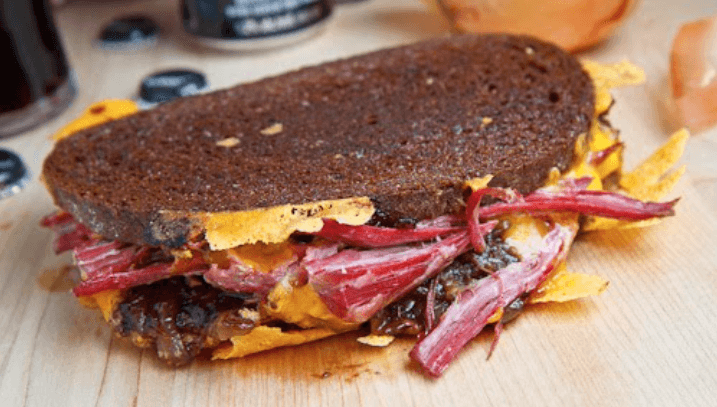 |
I guess you could say this Corned Beef Grilled Cheese with Guinness Caramelized Onions is the sister sammy of the Reuben.
The Reuben sandwich (sammy) has always been my favorite, but this one gives it a lot of competition.  Yes, this still has the tender corned beef, but this time we are loading it in to a grilled cheddar cheese sandwich with Guinness flavored caramelized onions, grainy mustard and Worcestershire sauce. How incredible does that sound!
The only time consuming part of this is simmering the onions in the Guinness 4 times for about 15 minutes each time.  But usually, I can find plenty of other things to be doing in the kitchen while that is going on.  And once you've done that part, the rest is easy and well worth it.
Give this a try soon, and you'll make all your fans happy!
Corned Beef Grilled Cheese Sandwich with Guinness Caramelized Onions
Prep Time: 10 minutes
Cook Time: 1 hour 15 minutes
Total Time: 1 hour 25 minutes
Servings: 1 **
Ingredients
1 tablespoon oil
1 medium onion, sliced
1 cup Guinness
1 teaspoon Worcestershire sauce
2 teaspoons grainy mustard
1 tablespoon butter, room temperature
2 slices rye, lightly toasted
1/2 cup cheddar, shredded, room temperature
2 ounces cooked corned beef, sliced or shredded, warm
Directions
Heat the oil in a pan over medium heat.
Add the onions and saute until tender, about 5-7 minutes.
Add 1/4 cup Guinness , cover and simmer until the liquid has mostly evaporated, about 15 minutes and repeat three more times.
Remove from heat and mix in the Worcestershire sauce and grainy mustard.
Heat a non-stick pan over medium heat.
Butter the outside of each slice of bread, sprinkle half of the cheese on the inside of one slice of bread, top with half of the onions, the corned beef, the remaining onions, cheese and finally the other slice of bread.
Add the sandwich to the pan and grill until golden brown and the cheese has melted, about 2-4 minutes per sides
**Be sure to double or triple this recipe, depending on how many sandwiches you want.