Bacon Guacamole Grilled Cheese Sandwich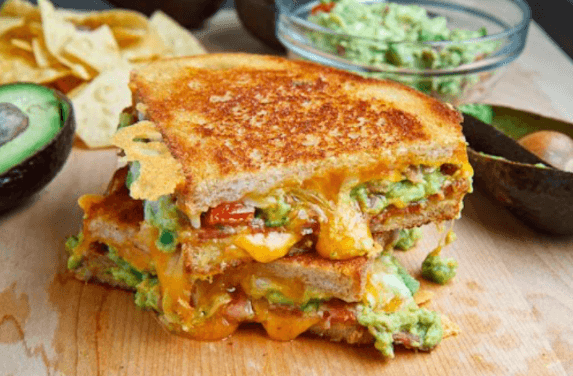 |
Kids and grown-ups alike are going to love this Bacon Guacamole Grilled Cheese Sandwich!
Grilled cheese has always been a comfort food favorite but when you add guacamole, crisp bacon and melted jack and cheddar cheese…OMG!  All of Kevin's recipes are creative and this is no exception.
He pays homage to the south of the border favorite of chips and guacamole dip by adding a tablespoon of tortilla chips to this incredibly delicious sandwich.  And as Kevin mentions, get your butter, guacamole and cheese at room temperature before you combine them.  This will make for easier spreading of the butter and perfectly melted grilled cheese.
And when you've totally fallen in love with this yummy sandwich, you should consider also trying Kevin's Taco Grilled Cheese Sandwich with taco seasoned beef.  You can find that on our website too by clicking here.
Next time you're hankering for a grilled cheese sandwich, do yourself a favor and try this one.
Bacon Guacamole Grilled Cheese Sandwich
Prep Time: 5 minutes
Cook Time: 10 minutes
Total Time: 15 minutes
Servings: 1
Ingredients
2 slices bacon
2 slices sour dough bread
1 tablespoon butter, room temperature
1/2 cup jack and cheddar cheese, shredded
2 tablespoons guacamole, room temperature
1 tablespoon tortilla chips, crumbled (optional)
Directions
Cook the bacon until crispy and set aside on paper towels to drain.
Butter one side of each slice of bread, sprinkle half of the cheese onto the unbuttered side of one slice of bread followed by the guacamole, bacon, tortilla chips, the remaining cheese and finally top with the remaining slice of bread with the buttered side up.
Grill over medium heat until golden brown and the cheese has melted, about 2-3 minutes per side.