Satisfy Your Pasta Craving With This Roasted Cauliflower and Mushroom Carbonara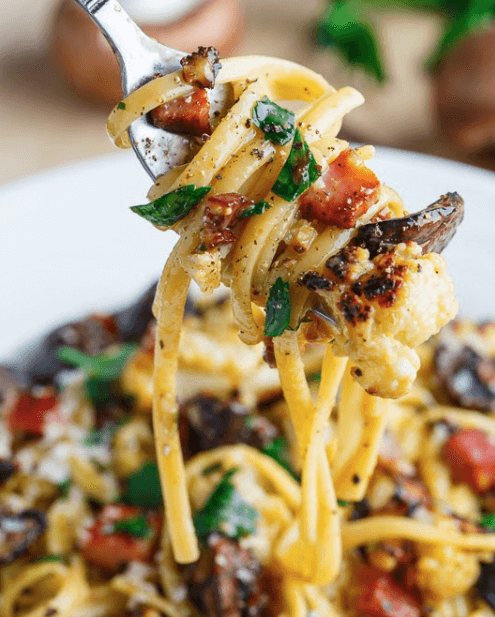 If you love pasta, you will go crazy for this Roasted Cauliflower and Mushroom Carbonara recipe.
While this is usually thought to be a rich, high calorie dish, I was pleasantly surprised that it is only 365 calories per serving.  I think we can thank all the yummy veggies in this recipe for that good news.  This recipe will come together quicker than you think because you can be sauteing the Pancetta or bacon and preparing the sauce while the cauliflower and mushrooms are roasting in your oven.
Don't wait to try this outstanding dish.
Roasted Cauliflower and Mushroom Carbonara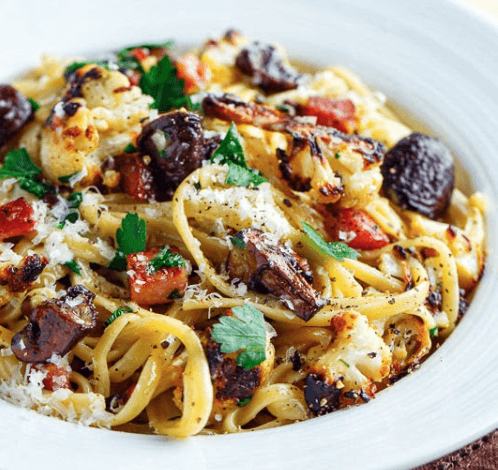 Prep Time: 10 minutes
Cook Time: 40 minutes
Total Time: 50 minutes
Servings:  4
Ingredients
1 small head cauliflower, cut into florets
8 ounces mushrooms, quartered
1 tablespoon olive oil
salt and pepper to taste
8 ounces fettuccine (or pasta of choice) (gluten free for gluten free)
4 ounces pancetta, diced or 4 ounces bacon cut into 1 inch pieces
1 clove garlic, chopped
2 eggs
1/2 cup (2 ounces) Parmigiano Reggiano (parmesan), grated
plenty of fresh cracked black pepper
salt to taste
1 tablespoon parsley, chopped
Directions
Toss the cauliflower and mushrooms in the oil, salt and pepper, place on a baking sheet in a single layer and roast in a preheated 400F/200C oven until they start to caramelize, about 20-30 minutes, mixing half way through.
Start cooking the pasta as directed on the package.
Cook the pancetta in a pan, pour off all but a tablespoon of the grease from the pan, add the garlic, cook for 30 second and turn off the heat.
Mix the egg, cheese, pepper and salt and parsley in a bowl.
Drain the cooked pasta reserving some of the water.
Mix the pasta, egg mixture, cauliflower and mushrooms into the pan with the pancetta, adding reserved pasta water as needed.
Note: To speed things up, about 20 minutes into roasting the cauliflower and mushrooms, get your pot of water for the pasta on the stove and start bringing it to a boil.
Option: Replace the Parmigiano Reggiano with Pecorino Romano.