Creamy Slow Cooker Mashed Potatoes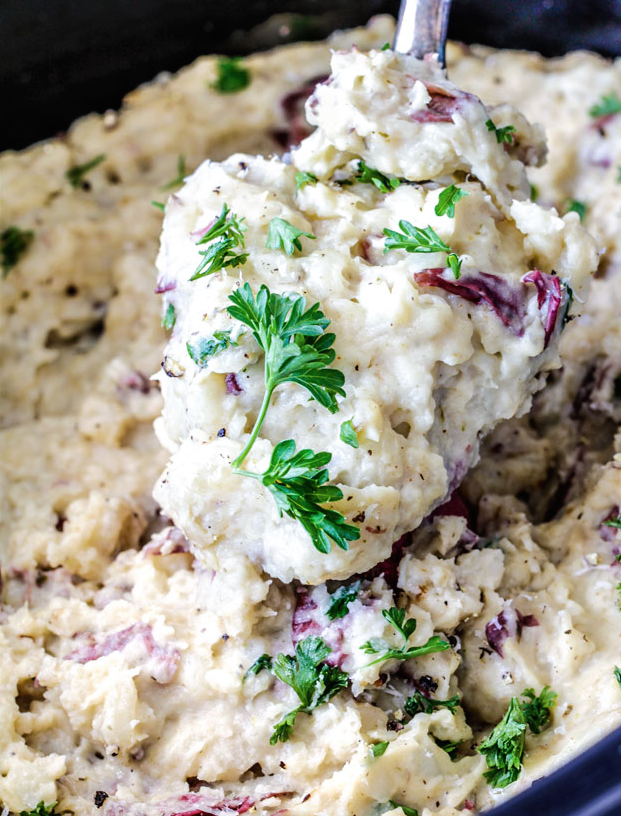 |
This Slow Cooker Mashed Potatoes recipe comes from a true mashed potatoes aficionado.
When a person that is crazy about mashed potatoes loves these, you listen…and hopefully, try them yourself.
You may have been put off in the past by all the time it takes to peel and boil potatoes.  That's no fun.  But the good news with this recipe is you don't have to do any of that!  All you need to do is wash your potatoes, and add them to your slow cooker with the skin on.  I think the secret to these delicious potatoes is the pesto, garlic and sour cream…yum!
I reread the recipe and although the picture shows it, I don't see any mention of parsley.  So my suggestion is that once your potatoes are ready, gently stir in some chopped parsley in an amount that suits your taste.
These will go perfectly with the Baked Pot Roast recipe I recently put in.  Enjoy!
Slow Cooker Mashed Potatoes
PREP TIME          10 mins
COOK TIME          4 hours
TOTAL TIME        4 hours 10 mins
Serves: 6-8 servings
INGREDIENTS
3 pounds red potatoes, sliced into 1-1/2" slices, skin on
1/4 cup unsalted butter, cubed
3 tablespoons prepared pesto
1/4 cup water
4 garlic cloves, minced
1 teaspoon salt
1/4 teaspoon pepper
1/4 teaspoon paprika
1/4 teaspoon onion powder
1/2 cup milk, more or less as desired
1/2 cup sour cream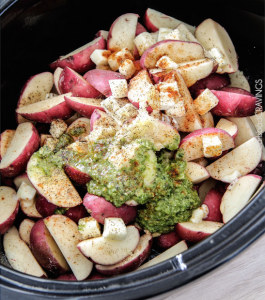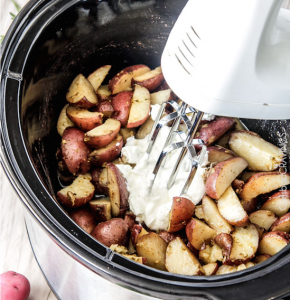 INSTRUCTIONS
Spray slow cooker with nonstick cooking spray.
Add potatoes, butter, pesto, water, garlic and spices to slow cooker. Cook on HIGH for 3-4 hours, or on LOW for 7-8 hours OR until potatoes are very tender.*
Add milk and sour cream, and mash with a potato masher or beat with an electric mixer (recommended) just until blended – don't overwork potatoes or they might become gummy.
Add additional milk as needed to reach desired consistency. Taste and season with additional salt and pepper if desired.
NOTES
*Potatoes will require longer cooking time if you have an older slower cooker.
*Cooking time will vary depending on potato size.