Crazy Tender Baked Pot Roast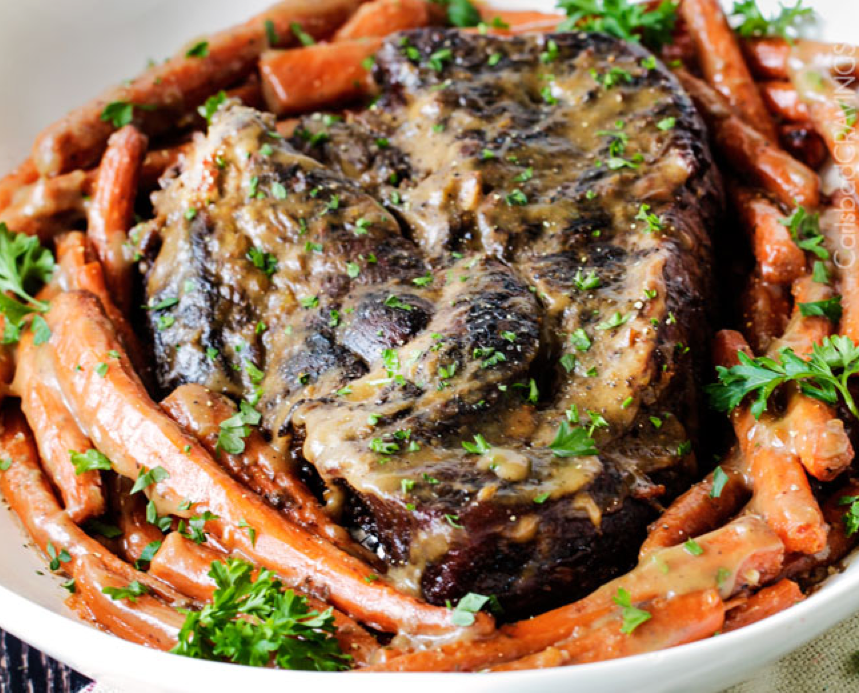 |
This is melt in your mouth Tender Baked Pot Roast.
The actual hands on prep time for this delicious recipe is minimal.  And then you just let it slowly roast at 300 degrees F for 4-5 hours.  This is a perfect meal for a weekend winter day. Spending time at home and smelling this comforting and warm aroma all day as it cooks…yum.
The trick to this tender pot roast is heat it on high at first to seal in all of the juices and then to turn the oven down and let it cook slowly for hours.  This pot roast is surrounded by carrots and  an amazing gravy.  And perfect to serve with these easy slow cooker mashed potatoes too.
When you are looking for some satisfying comfort food, try this.
Serves: 6-8 servings
Ingredients
Roast
1 3-5 pound chuck roast, trimmed of excess fat
3 tablespoons olive oil
6 garlic cloves, peeled
3 cups beef broth
2 tablespoons Worcestershire sauce
3 tablespoons dry minced onion
2 tablespoons beef bouillon powder
1 teaspoon onion powder
1 teaspoon garlic powder
1 bay leaf
1 teaspoon salt
½ teaspoon pepper
Gravy
2 cups beef broth (or less depending on how much broth/juices remain after roasting)
¼ cup flour
Instructions
Preheat oven to 425 degrees F.
Heat olive oil over high heat in a large nonstick skillet. Using tongs, sear meat on all sides until lightly browned and transfer to a roasting pan. Add whole garlic cloves into the crevices of the roast (usually where there is a seam of fat). Add desired amount of carrots surrounding roast.
In a medium bowl, whisk together all remaining "Roast" ingredients and pour over roast and carrots.
Cover tightly with foil and roast for 30 minutes at 425 degrees F.
Turn roast over, re-cover with foil and TURN OVEN DOWN to 300 degrees F. Continue to roast for an additional 4-5 hours at 300 degrees F. Roast is ready when it is fall apart tender.
Remove roast and carrots from oven to a serving platter and let roast sit 30 minutes before carving to reabsorb the juices.
Gravy: Remove any excess juices/broth from roasting pan and strain fat. Add canned beef broth to the juices/broth to equal 2 cups. Set aside.
Add 4 tablespoons fat/drippings to saucepan (from roasting pan or strained from broth/juices) OR melt 4 tablespoons butter in a small saucepan over medium heat. Sprinkle in ¼ cup flour and whisk to create a roux. Cook over medium heat, while whisking, until lightly browned, about 1-2 minutes. Slowly stir in 2 cups juices/broth and bring the gravy to a simmer until thickened. Add additional broth if needed to thin. Season to taste with additional salt and pepper (although it probably won't need it!)