Chicken and Cheese Quesadilla Pie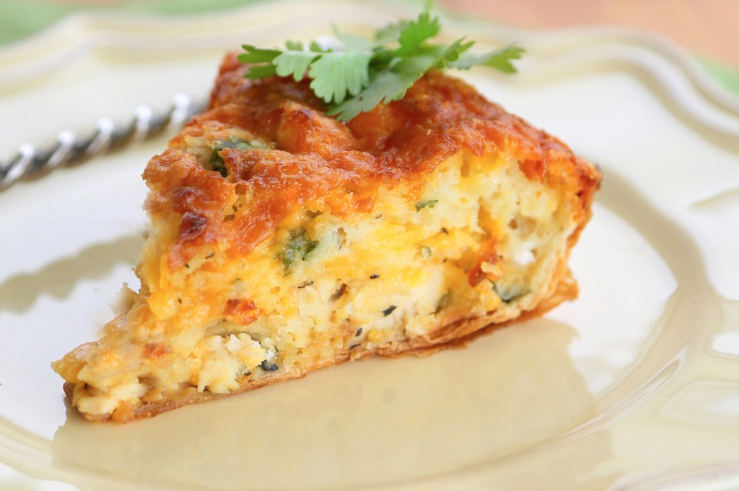 This Chicken and Cheese Quesadilla Pie is perfect for breakfast, lunch or dinner.
A simple meal that saves you time by using a rotisserie chicken.  Of course, if you have leftover chicken on hand, that would work too.
Another time saver here is that you are using a flour tortilla for a crust.  This saves you the time consuming process of making your own crust while adding a Spanish flare to this dish.
Kids and adults alike love this Quesadilla Pie, give it a try!
Chicken and Cheese Quesadilla Pie
Ingredients
1 (10-inch) flour tortilla (burrito size)
1 rotisserie chicken, skin discarded, meat shredded into bite-sized pieces (about 3 cups)
1/2 cup finely chopped fresh cilantro leaves
(optional) 1/3 cup drained jarred pickled jalapeños, chopped
2 cups shredded sharp cheddar cheese
Salt and pepper
2 large eggs
1 cup whole milk
1 cup all-purpose flour
1 teaspoon baking powder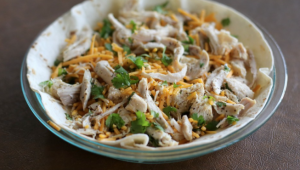 Instructions
Adjust oven rack to middle position and heat oven to 450 degrees. Grease 9-inch pie plate. Press tortilla into prepared pie plate and spray lightly with cooking spray.
Toss chicken, cilantro, jalapeños (optional), 1 cup cheese, ½ teaspoon salt, and ½ teaspoon pepper in large bowl until combined. Spread filling over tortilla.
Whisk eggs, milk, flour, baking powder, and ½ teaspoon salt in bowl until smooth. Slowly pour over filling, then sprinkle with remaining cheese. Bake until surface is golden brown, about 16-20 minutes, and when knife inserted into the center comes out clean.
Let cool 5 minutes. Cut into wedges and serve.