Bobby Deen's Baked Spaghetti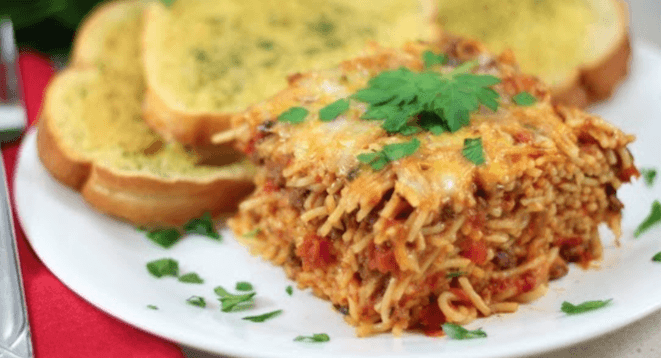 Bobby Deen's Baked Spaghetti is not to be missed.
This casserole reminds me of a spaghetti pie that I loved.  I thought it would have too much pasta, but it doesn't.  It is a truly tasty combination of ingredients that are sure to make everyone happy. It would also be a great dish to bring to a pot luck.
Don't miss this one.  Once you've tried it, I think you'll want to make it again and again. 
Bobby Deen's Baked Spaghetti
1 (8 oz.) can tomato sauce
1 (14.5 oz.) can diced tomatoes, undrained
1 c. low-sodium chicken broth
1 tsp. Worcestershire sauce
splash of white wine vinegar, (optional)
1 c. onion, finely chopped
2 garlic cloves, minced
1/4 c. fresh parsley, chopped
salt and pepper, to taste
1/2 tsp. garlic powder, or to taste
2 tsp. Italian seasoning
1 1/2 tsp. sugar
1 bay leaf
1/2 Lb. lean ground beef
8 oz. angel hair pasta
1 c. Cheddar cheese, grated
1 c. Mozzarella or Monterey cheese, grated
In a large saucepan, combine the tomato sauce, diced tomatoes, chicken broth, Worcestershire, white wine vinegar, onion, garlic, parsley, salt, pepper, garlic powder, Italian seasoning, sugar and bay leaf. Bring to a boil, then reduce the heat and simmer, covered, for 1 hour. When sauce is about done, in a nonstick skillet, cook the ground beef over medium-high heat until no pink remains. Add the meat to the sauce.
Preheat oven to 350 degrees. Meanwhile, cook the pasta according to package directions and drain well. Lightly grease an 8X8-inch casserole dish. Combine the sauce mixture with the cooked pasta, 1/2 cup of Cheddar and 1/2 cup of Mozzarella or Monterey. Pour into casserole dish. Bake, uncovered, for 30 minutes. Top with remaining cheese and continue to bake until melted and bubbly, about 5 minutes. Serves: 5-6