Deliciously Addictive Mandarin Pasta Spinach Salad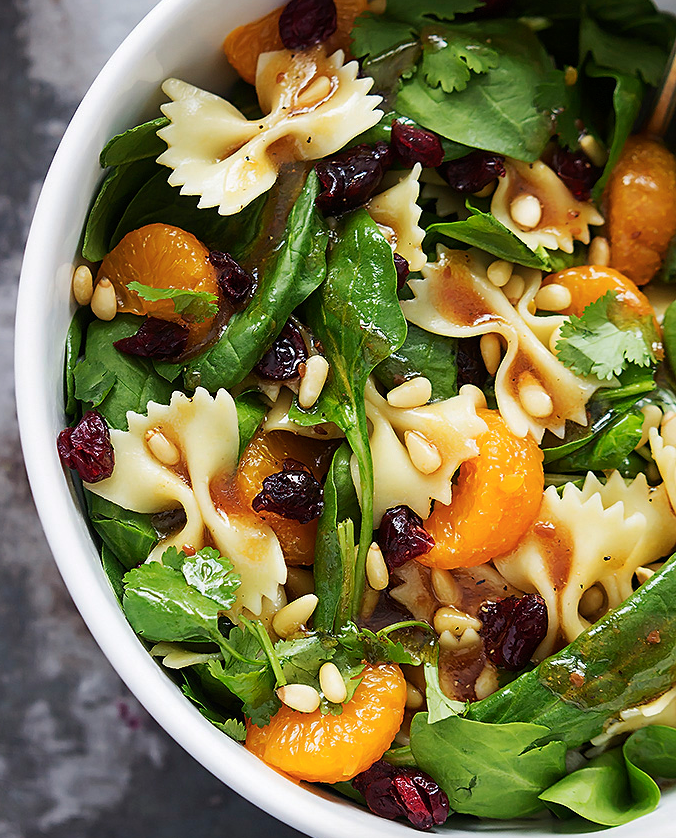 This flavorful Mandarin Pasta Spinach Salad has a deliciously addictive Teriyaki Dressing.
The combination of spinach, pasta, cashews, etc. is already yummy but the Teriyaki Vinaigrette Dressing really puts it over the top.  When you're making your dressing, look for a store bought Teriyaki that has a thicker consistency (such as Kikkoman)  This will help it cling to your salad.  You could also make this a complete meal by adding pieces of cooked chicken.
Give this uniquely flavorful dish a try and be prepared for lots of compliments!
Mandarin Pasta Spinach Salad with Teriyaki Dressing
Ingredients
8 ounces bowtie pasta noodles
4 cups spinach leaves
½ cup craisins
⅓ cup cashews or Diamond of California Pine Nuts (or whatever brand you prefer)
1 4-ounce can mandarin oranges, drained
¼ cup cilantro leaves, roughly chopped
Dressing
⅓ cup teriyaki sauce (the thicker, the better!)
⅓ cup rice wine vinegar (may sub apple cider vinegar)
½ teaspoon garlic powder
½ teaspoon onion powder (if you have it)
¼ teaspoon salt
¼ teaspoon black pepper
1 tablespoon sugar
½ cup oil (such as vegetable oil, canola oil, olive oil)
Instructions
Cook pasta according to package instructions, drain and rinse with cold water. Set aside.
While pasta is boiling, prepare the dressing. In a jar combine all dressing ingredients. Cover and shake to combine. Chill until ready to use.
In a large bowl toss together pasta, spinach, craisins, nuts, mandarin oranges, and cilantro. Just before serving pour dressing over salad, toss, and serve.