Rosemary Garlic Steak Is A Favorite of Great Chefs
|
Rosemary and garlic are a fantastic flavor combination and when you add it to this steak, you have a real winner.
Jaiden uses a bone-in Rib eye steak in this recipe.  This cut of steak has marbling which also adds additional great flavor.
The original recipe is from Marcella Hazan, a cooking legend.  Apparently, it is her favorite way to prepare steak and it has become Jaiden's favorite way too.  That alone should make you want to try this recipe.
ROSEMARY GARLIC STEAK
Servings: Serves 4 Prep Time: 10 minutes Cook Time: 10 minutes
INGREDIENTS:
2  Black Angus Rib eye Steaks
1/4 cup olive oil
6 cloves garlic, thinly sliced
6 sprigs rosemary
salt and pepper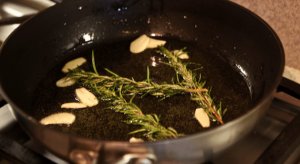 DIRECTIONS:
1. Heat a frying pan over high heat until very hot. Add the steaks in the pan and cook to your liking. Remove the steaks from the heat and let rest. Depending on the size of the pan, you may have to do this (and the next step) in two separate times.
2. In a separate pan, add the olive oil. Turn the heat to medium-low and immediately add the garlic and the rosemary to the pan. As the oil heats, the garlic and rosemary will slowly release its flavors and aromas. Keep a careful watch on the pan as you do not want it to burn the aromatics. Once the edges of the garlic begin turning light brown, carefully add the cooked steak into the pan with tongs and gently flip the steak in the pan so that both sides are coated with the hot rosemary-garlicky oil.
3. Season the steak with salt and pepper, flip the steak and season with salt and pepper again. Remove the steak to a serving platter and then pour the garlic, rosemary and olive oil on top of the steaks.
Original Recipe Source:  Marcella Hazan
For more details on this recipe, as well as the interesting story about Jaiden's meeting with Marcella and Victor Hazan, click here.