Olive Garden Zuppa Toscana – Copycat Recipe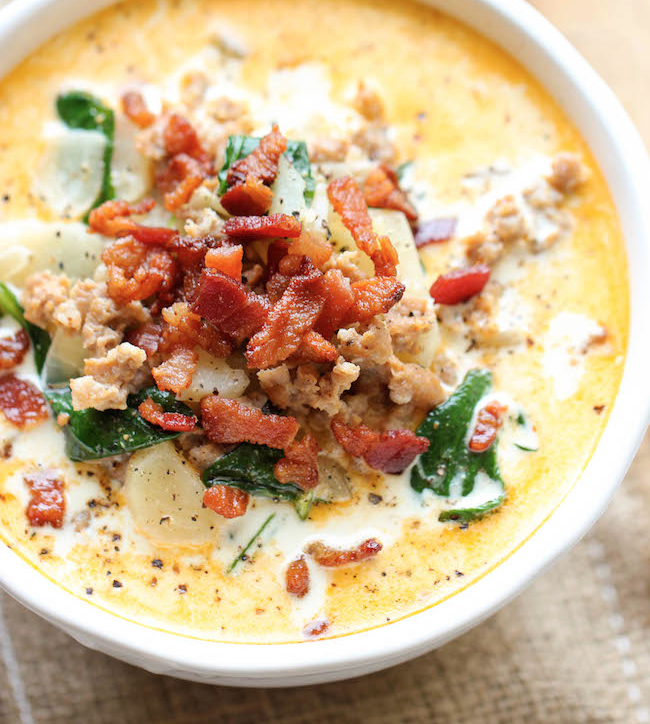 If you love the Olive Garden's Zuppa Toscana, you are in for a real treat.
I think the original Olive Garden recipe uses kale, but you can also use swiss chard or spinach, as this recipe does.  And if you don't like things too spicy, you can certainly use a mild Italian sausage instead.  Also, make sure your bacon is extra crispy as it will get a little soft in the soup.
I think this inexpensive soup is even better than the original, but I'll leave that up to you to decide.
Olive Garden Zuppa Toscana Copycat Recipe
Prep Time  15 minutes
Cook Time 30 minutes
Total Time 45 minutes
Yield 6 servings
Ingredients
4 slices bacon, diced

1 pound spicy Italian sausage, casing removed

1 tablespoon olive oil

2 cloves garlic, minced

1 onion, diced

4 cups chicken broth

3 russet potatoes, peeled and thinly sliced

3 cups baby spinach

1 1/2 cups heavy cream

Kosher salt and freshly ground black pepper, to taste
Instructions
Heat a large skillet over medium high heat. Add bacon and cook until brown and crispy, about 6-8 minutes. Transfer to a paper towel-lined plate; set aside.

Add Italian sausage to the skillet and cook until browned, about 3-5 minutes, making sure to crumble the sausage as it cooks; drain excess fat and set aside.

Heat olive oil in a large stockpot or Dutch oven over medium heat. Add garlic and onion, and cook, stirring frequently, until onions have become translucent, about 2-3 minutes. Stir in chicken broth and bring to a boil. Add potatoes and cook until tender, about 10 minutes.

Stir in sausage and spinach until spinach begins to wilt, about 1-2 minutes. Stir in heavy cream until heated through, about 1 minute; season with salt and pepper, to taste.

Serve immediately, garnished with bacon.