Hot Cheesy Crab, Spinach and Artichoke Super Bowl Party Dip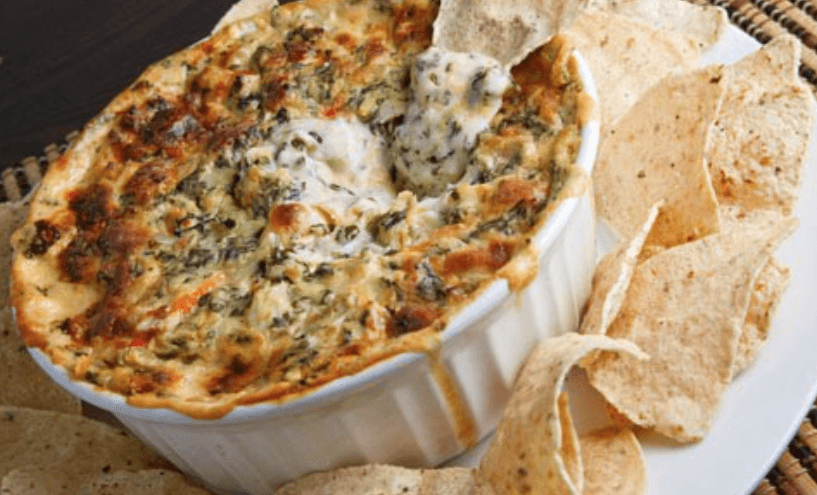 |
This Hot Cheesy Crab, Spinach and Artichoke Dip gives you the best of all three dips rolled into one.
And when you pull out all the stops by adding cream cheese, mozzarella cheese and cheddar cheese, you know you have just created a show stopper dip.
Serve this at your Game Day Party and you'll make everyone happy!
Hot Cheesy Crab, Spinach and Artichoke Dip
Ingredients
1 tablespoon butter
2 cloves garlic (chopped)
1/4 cup white wine
1 cup baby spinach (packed)
4 ounces cream cheese (room temperature)
1/2 cup sour cream
chili sauce to taste
salt and pepper to taste
1/4 parmigiano reggiano (grated)
1/2 cup mozzarella (grated)
1/2 cup cheddar (grated)
1 cup artichoke hearts (chopped)
1 cup crab (chopped)
2 green onions (chopped)
Directions
Melt the butter in a pan over medium heat, add the garlic and saute until fragrant, about 30 seconds.
Add the white wine and spinach and heat until the spinach wilts, about 1-2 minutes.
Process the spinach, cream cheese, sour cream, chili sauce, salt and pepper in a food processor until nice and mixed.
Mix everything, place the mixture into a baking dish bake in a preheated 350F/180C oven until bubbling and golden brown on top, about 20-30 minutes.
Slow Cooker: Implement steps 1-3, mix everything, place it in the slow cooker and cook until the cheese is nice and melted about 1-2 hours on high or 2-4 hours on low.