Crunchy And Creamy Avocado Pasta Salad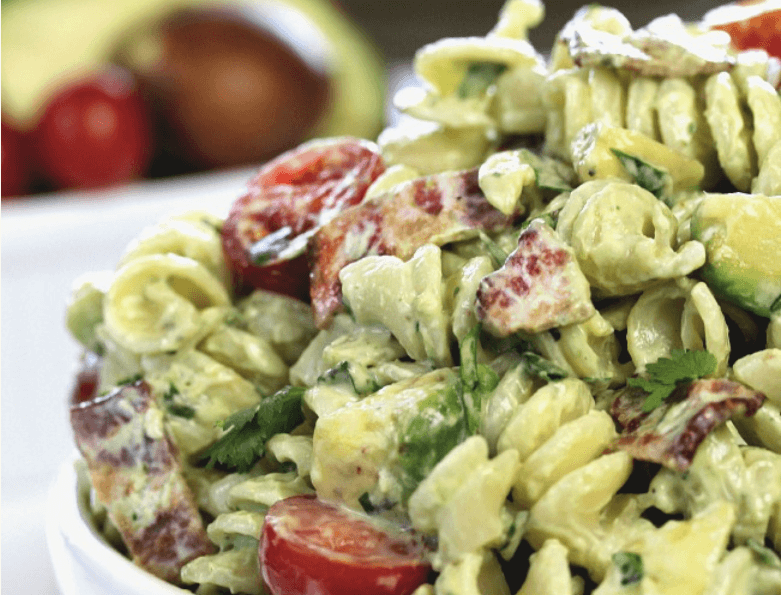 This Avocado Pasta Salad is heavy on the avocados, which I think is always a good thing!
You not only have avocado in the salad itself but you are getting even more in the salad dressing…nice.  Make sure you add the lime juice to both the salad and the dressing.  Besides adding a zesty taste it will prevent the avocados from turning dark.
Also, when you are tossing the diced avocado in the salad, be gentle to avoid mashing them.
I think this salad would be great for lunch with your favorite sandwich or even on its own.
Add this to your list of delicious and healthy salads to try soon.  Enjoy!
Ingredients for Salad
8 oz rotini or bow tie pasta
1 cup cherry tomatoes, diced
8 slices bacon, cooked crisp & crumbled
1 green onion, thinly sliced
2 tablespoons chopped cilantro
1 avocado, diced
1 teaspoon lime juice
Ingredients for Dressing
1 ripe Avocado
½ fresh Lime, juiced
¼ cup chopped cilantro
½ teaspoon cumin
½ teaspoon garlic powder
½ Cup Buttermilk
salt & pepper to tastes
Dressing Instructions
Place all dressing ingredients in a blender and process until smooth.
Salad Instructions
Cook pasta according to package directions. Drain and run under cold water.
Toss diced avocado with lime juice.
Combine all ingredients in a large bowl gently toss with dressing. Refrigerate 1 hour before serving.
Store refrigerated up to 2 days.