Creamy Slow Cooker Thai Coconut Chicken Wild Rice Soup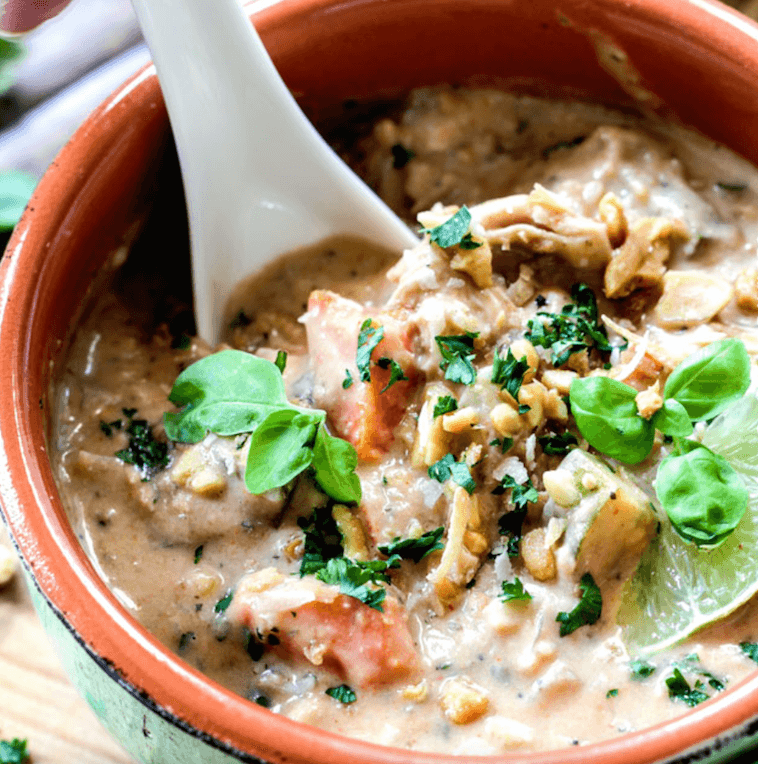 |
This Thai Coconut Chicken Wild Rice Soup is a heavenly meal in a bowl.
It is loaded with yummy vegetables, including butternut squash, zucchini and sweet potatoes for starters. The chicken and veggies are simmered in a creamy curry peanut butter coconut broth and the combination is simply fantastic.
Please don't be put off by the long list of ingredients.  As you can see, a lot of them are just flavor enhancing herbs.  Once you have put the ingredients all together in your slow cooker, you can pretty much set it and forget it.  The long list of spices and herbs is what takes this dish from ordinary to extraordinary.
Give yourself and your family a treat and make this Asian comfort food soon.
Slow Cooker Thai Coconut Chicken Wild Rice Soup
PREP TIME         15 mins
COOK TIME         4 hours
TOTAL TIME       4 hours 15 mins
Serves: 6 servings
INGREDIENTS
PHASE 1
1 pound boneless, skinless chicken breasts (2-3 breasts)
1 tablespoon olive/coconut oil
1 cup uncooked wild rice blend, rinsed and drained
1 cup butternut squash, peeled and cubed
1 small sweet potato, peeled and cubed
1 Granny Smith apple, peeled and cubed
1 small zucchini, sliced and quartered
1 onion, diced
¼ cup red curry paste
1 tablespoon freshly grated ginger
4 garlic cloves, minced
2 tablespoon brown sugar
3 tablespoon fish sauce
2 tablespoon low sodium soy sauce
1 tablespoon dry basil
1 teaspoon ground cumin
1 1/2 teaspoons salt
1/2 teaspoon pepper
2 14 oz. cans quality coconut milk
5 cups chicken broth
PHASE 2
1 tablespoon cornstarch
1/4 cup water
1/3 cup creamy peanut butter
2 tablespoons lime juice
2-4 teaspoon sriracha/Asian chili sauce
INSTRUCTIONS
Rub chicken with oil and place in the bottom of your slow cooker followed by all of the ingredients in Phase 1. Cover and cook on high for 3-4 hours or on low 6-7 hours, or until chicken is tender enough to shred and rice is cooked.
Remove chicken and allow to rest 5 minutes before shredding or chopping if preferred.
Meanwhile, whisk 1 tablespoon cornstarch with 1/4 cup water and add to slow cooker. Stir in peanut butter and lime juice. Add chicken back to slow cooker and cook on HIGH for 15-20 minutes or until slightly thickened. Stir peanut butter until smooth.
Taste and add additional salt, pepper, peanut butter, Sriracha as desired. If you would like a less "chunky" soup, stir in additional broth.
Garnish individual servings with coconut flakes, fresh cilantro, crushed peanuts and freshly squeezed lime juice.