Creamy Peanut Butter Cup Protein Shake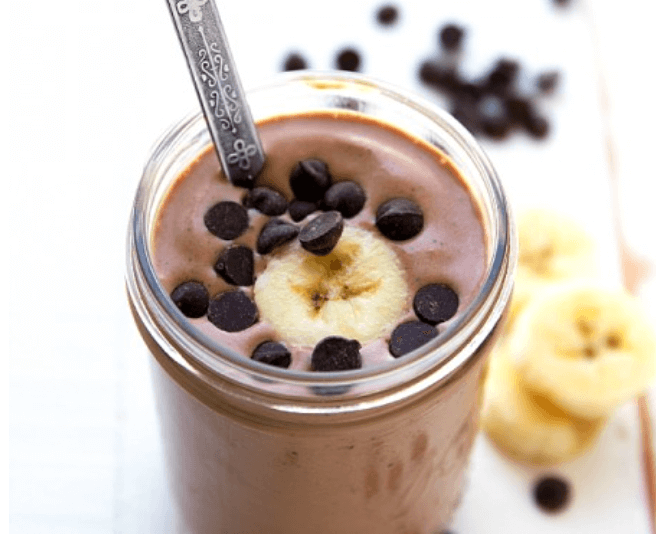 Whether  you are looking for a healthy breakfast or just a snack, this delicious Peanut Butter Cup Protein Shake will fix you up!
The combination of peanut butter and chocolate always gets my attention.  And then when you add yogurt, frozen banana slices and chocolate protein powder, you are in for a totally yummy treat!
Besides being a quick go to breakfast or snack, I personally have found cold shakes to be soothing when I am nursing a sore throat.  But don't wait until you have a sore throat to try this, it is really great any time you're in the mood for something delicious.
Enjoy this shake and if you are looking for even more shake ideas, check this out.
Peanut Butter Cup Protein Shake
Serves: 1
INGREDIENTS
1 large banana, frozen
1 cup chocolate soymilk or almond-milk
1 (6 ounce) vanilla or plain yogurt
3 tablespoons peanut butter
1 tablespoon chocolate protein powder
1/2 teaspoon truvia, or sub another sweetener
1/2 teaspoon vanilla
Optional: 1/2 – 1 cup ice
INSTRUCTIONS
At least 2-3 hours previous to making this shake, remove the peel from the banana, slice into large coins, and place in a plastic bag in the freezer. (I usually freeze the banana the night before)
When the banana is completely frozen, combine it with the chocolate soymilk, vanilla or plain yogurt (Greek, low-fat, or regular), peanut butter, chocolate protein powder, truiva, and vanilla.
Add ice if desired for a larger and thicker shake.
Blend until smooth. Pour into a large glass and drizzle with extra peanut butter if desired.
Enjoy immediately