Beth's Fancy Mac & Cheese Is Five Star Delicious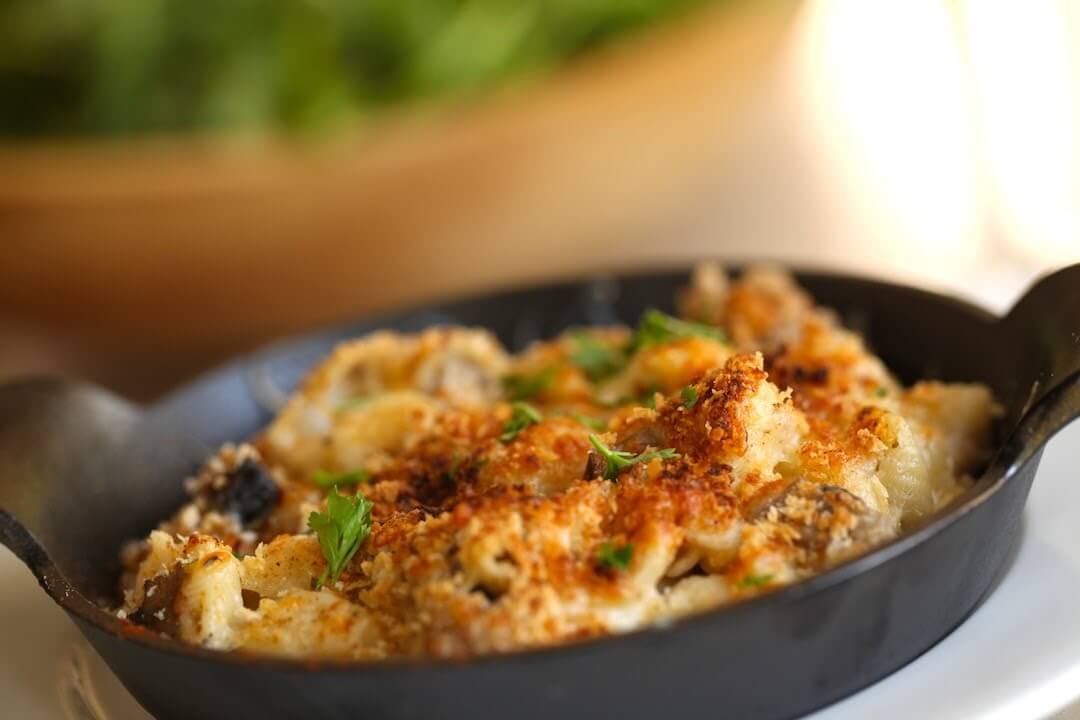 |
BETH'S FANCY MAC & CHEESE
Serves 6
INGREDIENTS:
4 cups (560 g)of mini shells
1 tbsp (15 ml) olive oil
½ red onion, diced
1 large Portobello mushroom, diced
salt and pepper to taste
3 sweet Italian sausages, casings removed
1 tbsp (15 ml) Italian Seasoning (or equal parts dried oregano, basil, marjoram, parsley to make 1 tbsp total)
6 tbsp (90g) butter
6 tbsp (45 g) flour
3 cups (630 ml) of milk
1 tsp (5 ml) salt
¼ tsp (1.25 ml) pepper
freshly grated nutmeg to taste
1 cup (125 g) Italian blend cheese (a blend of usually these cheeses provolone, parmesan, Fontina, asagio) If you can't find the blend use half of a gooey cheese like provolone and half of the stronger flavored cheeses like asagio or parmesan)
3 tbsp of panko bread crumbs
3 tbsp (12 g) of regular bread crumbs
Paprika for garnish
2 tbsp (8 g) flat leaf parsley, chopped
METHOD:
Boil pasta according to package instructions.
Meanwhile heat olive oil in a pan. Sautee red onions with salt and pepper to taste. Once wilted and beginning to caramelize, add mushrooms. Cook until mushrooms start to release their juices. Transfer to a small bowl.
In the same pan sautee sausages, out of their casings, until crumbly and cooked through. Drain with a slotted spoon and transfer to a paper towel to drain.
Wash out the pan and melt butter, then add flour and mix with a wire whisk until a paste forms, whisk in milk slowly, continue to stir and cook until sauce thickens. Season with salt, pepper and freshly grated nutmeg. Add ¼ cup of the cheese, stir until melted and set aside off the flame.
Combine panko and bread crumbs and set aside.
Drain pasta, mix with the cheese sauce, add the veggies and sausage and toss until combined. Transfer mixture into individual gratin dishes and top each gratin dish with 1 tbsp of the reaming cheese, a sprinkle of paprika, and 1 tbsp of the bread crumb mixture.
Place gratin dishes under the broiler until cheese bubbles and is golden brown (usually 2-3 minutes max).  Top with a sprinkling of flat leaf parsley