Traditional Irish Soda Bread Direct From Ireland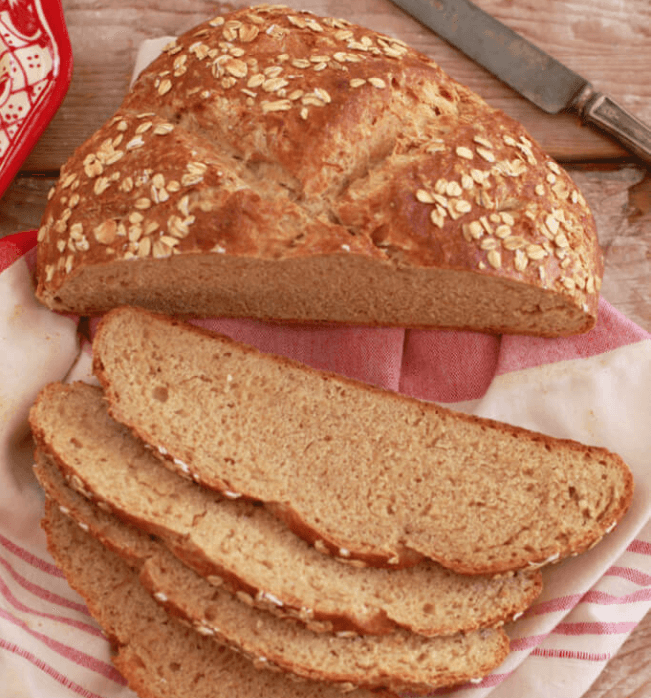 |
Here's an authentic Irish Soda Bread to help you celebrate St Patrick's Day.
Gemma Stafford is such a talented baker.  Her mum, Patricia, taught her how to cook and this is one of her mum's recipes direct from Ireland.
If you're tempted to just read the recipe and not watch the video…don't do it!  Gemma has some important tips in the video that you would miss if you don't watch.  Also, she mentions the tradition of blessing the bread as well as letting the fairies out…just watch.
Try this  delicious and easy to bake bread and make it a tradition in your family. 
Prep time      15 mins
Cook time     45 mins
Total time       1 hour
Author: Patricia Stafford
Serves: 8
Ingredients
1¾ cups (265g/ 9oz) whole wheat flour (fine or coarsely ground)
1¾ cups (265g/9oz) all-purpose flour
1 teaspoon salt
1 teaspoon baking soda
2 tablespoons (30g/1oz) butter, cold
1 egg
1⅔ cups (400ml) buttermilk*
1 tablespoons oats
Instructions
Preheat the oven to 425°F (215°C).

Mix together the flours, salt, and baking soda in a large bowl. Add the butter and rub into the flour mixture with your fingertips until it resembles bread crumbs.
In a separate jug, whisk the egg and buttermilk together (see note on how to make Buttermilk below)
Make a well in the center of the dry ingredients and pour the liquid into the flour mixture.
Using an open hand bring the flour and liquid together to a loose dough. The dough should be quite soft, but not too sticky.
Turn onto a floured work surface and gently bring the dough together into a round about 1½ inches (4cm) thick (8 inches by 8 inches) .
Place on a baking sheet dusted well with flour
Score the bread by blessing it with a deep cross on top. Poke a hole in the 4 corners of the bread to release the fairies and stop them from cursing your beautiful bread.
Glaze the bread with the leftover bit of buttermilk in your jug and dust the top with rolled oats.
Bake for 15 minutes, then turn down the oven to 400°F (200°C) and bake for 30 minutes more. When done, the loaf will sound slightly hollow when tapped on the bottom. Remove from the baking sheet and place on a wire rack to cool.
Notes
6 SmarPoints
5 PointsPlus Points
*For every Cup of Buttermilk needed mix 1 cup of regular milk with 2 tablespoons of Lemon juice or white vinegar. Mix and let it stand for a minimum of 30 minutes before using.
Nutrition Information
Serving size: 8 servings Calories: 183 Fat: 4g Saturated fat: 2g Unsaturated fat: 0g Trans fat: 0g Carbohydrates: 28g Sugar: 3g Sodium: 583mg Fiber: 2g Protein: 7g Cholesterol: 33mg