Simple And Delicious Cucumber and Feta Salad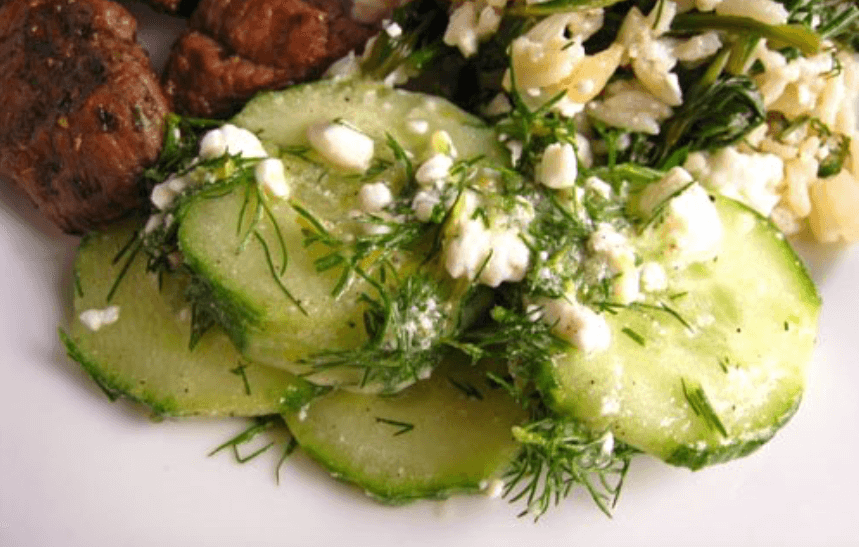 |
This Cucumber and Feta Salad is a perfect addition to any meal.
I think dill and cucumber is just meant to go together and adding some yummy Feta cheese just seals the deal.
Something I like to do with a salad like this, is add it to a turkey or chicken sandwich or even a burger.  While you're adding a tomato to your sandwich, try adding just a little of this salad too.  It will certainly boost the flavor.
If you decide to do that, use a slotted spoon to pick up pieces of the salad and put it on your sandwich.  This will prevent too much of the salad's dressing  from getting on the sandwich.  We're going for yummy, not soggy.
Of course, this will make a great side dish too with anything you are serving.
Enjoy this fresh summer salad at your next gathering with friends and family.
Cucumber and Feta Salad
Ingredients
1 cucumber (sliced)
1 cup feta cheese (crumbled)
1/2 cup dill (chopped)
3 tablespoons olive oil
1 lemon (juice and zest)
1 green onion (chopped, optional)
salt and pepper
Directions
Mix the olive oil, lemon juice, salt and pepper in a bowl.
Toss the cucumber and feta with the dill and dressing to coat.