Party Perfect Crispy Baked Cheddar Dijon Chicken Tenders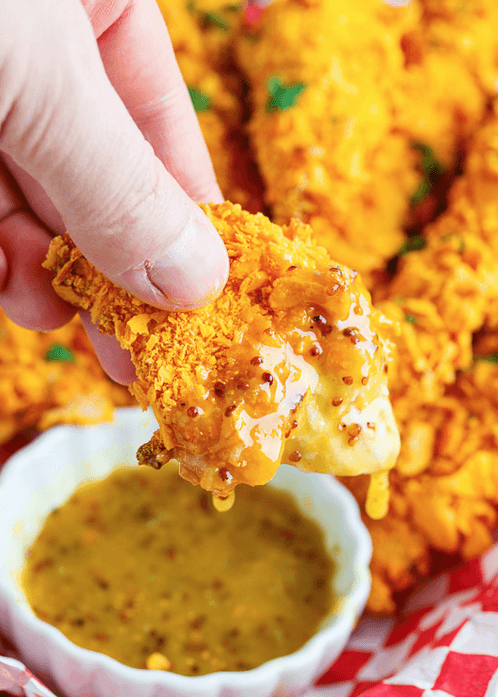 |
These Crispy Baked Cheddar Dijon Chicken Tenders are the perfect finger food.
They are great for a quick and easy sit down dinner for family and friends.  However, you could also serve them at your next party as delicious finger food.  The chicken is dipped into a yummy honey dijon sauce and then covered in crumbled cheddar cheese crackers.  And when you are serving these crispy chicken tenders, you get to dip them into even more honey dijon sauce…yum.
Consider doubling this recipe as it is sure to be a huge hit.
Crispy Baked Cheddar Dijon Chicken Tenders  
Prep Time: 10 minutes
Cook Time: 20 minutes
Total Time: 30 minutes
Servings: 4
Ingredients
3 tablespoons honey
1/4 cup dijon mustard
1 tablespoon grainy dijon mustard (optional)
2 tablespoons oil
2 tablespoons lemon juice (~1/2 lemon)
1 tablespoon white miso paste (optional)
1 clove garlic, minced
1 pound boneless and skinless chicken, optionally cut into strips
salt and pepper
1/2 cup flour
2 cups cheddar cheese crackers, crushed
Directions
Mix the honey, mustards, oil, lemon juice, miso and garlic, season with salt and pepper and divide in half.
Season the chicken with salt and pepper, dredge in the flour, shake off excess, dip in half of the dressing, shake off excess, press into the cheddar cheese crackers crumbs and place on a wire cooling rack on a baking sheet.
Bake in a preheated 400F/200C oven until cooked (165F) and golden brown, about 15-25 minutes, depending on the size of the chicken breasts.
Serve straight from the oven with remaining dressing.
Option: Instead of dipping the chicken in the honey dijon dressing before baking, dip it in the mixture of 2 eggs and 1 tablespoon dijon mustard.
Option: Use another flavor of cracker, pretzels, etc. instead of the cheddar cheese crackers.