Creamy Caprese Stuffed Avocados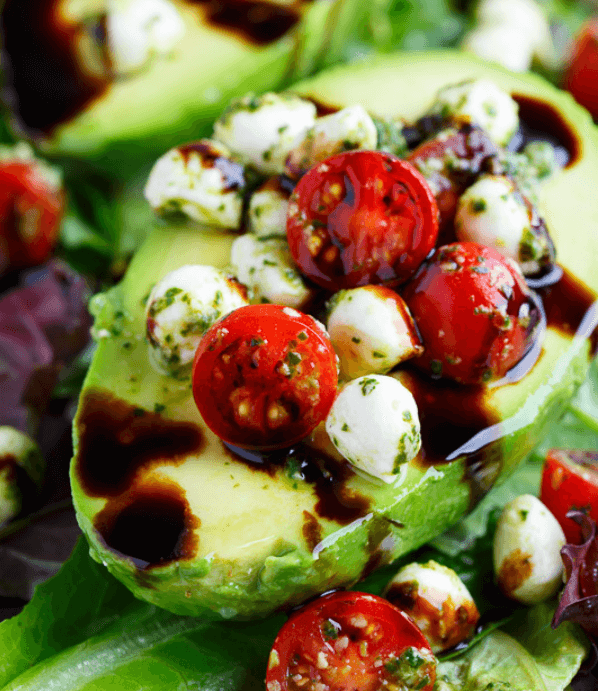 |
Say yes to these incredible Caprese Stuffed Avocados!  You can thank me later.
As you may know by now, avocados are one of my favorite foods.  Besides being so good for you, the combination of flavors here is incredible.  This recipe includes fresh mozzarella, juicy tomatoes, basil pesto and balsamic vinegar.  Serve this on a bed of lettuce and be prepared to fall in love with this beautiful dish.
Serve this versatile salad as an appetizer or a light entree and make everyone happy!
Caprese Stuffed Avocados
Prep Time: 10 minutes
Total Time: 10 minutes
Servings: 4
Ingredients
1 cup salad greens
1 cup tomato, diced
1/2 cup fresh mozzarella, diced
2 tablespoons basil pesto
2 tablespoons balsamic reduction
Directions
Plate the avocado on the salad greens and top with the mixture of the tomato, mozzarella and pesto followed by a drizzle of the balsamic reduction.
Note: To make the balsamic reduction, simmer balsamic vinegar until it reduces to 1/2 to 1/4 or the desired thickness and let cool before using.
Nutrition Facts by Edamam:   Calories 257, Fat 22.2g (Saturated 5.6g, Trans 0), Cholesterol 8mg, Sodium 96mg, Carbs 11.4g (Fiber 7.5g, Sugars 1.7g), Protein 6.5g