BLT Pasta Salad with Avocado Ranch Dressing Is A Winner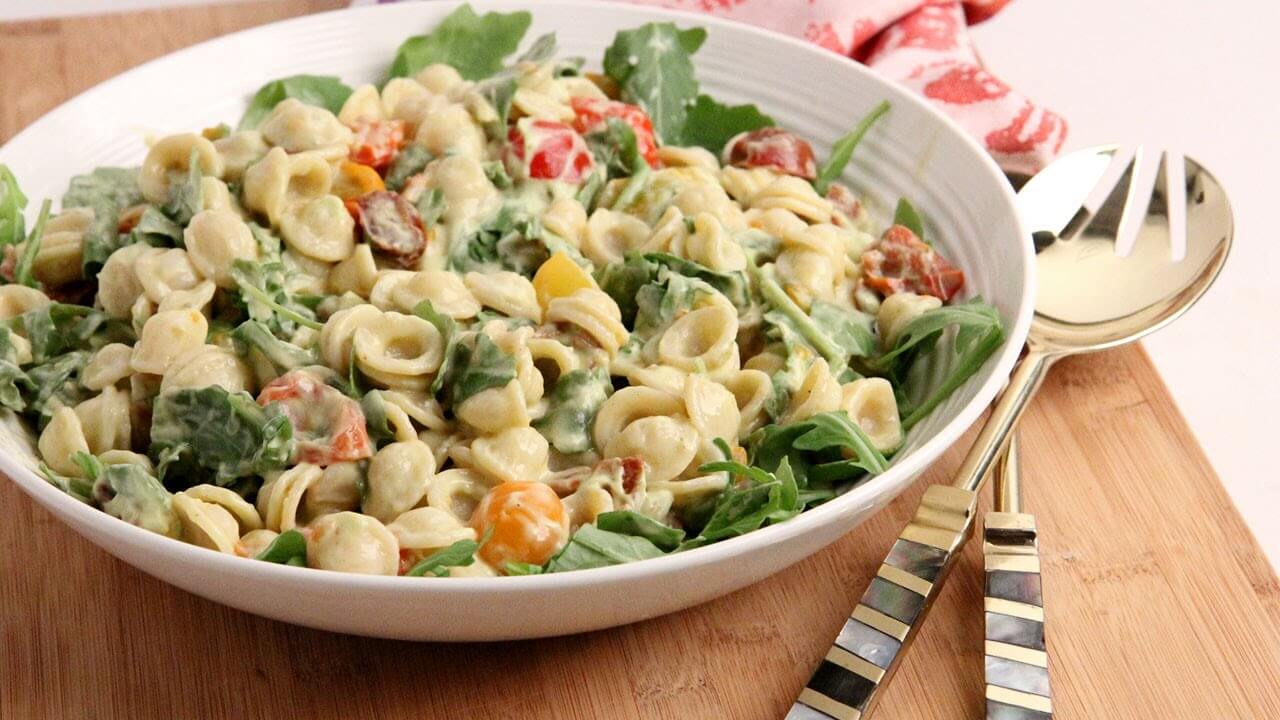 Serves 6
Prep time: 15 mins
Cook time: 10 mins

Ingredients:
For the salad:
12 oz of Short Cut Pasta
12 oz of Chopped Tomatoes, about 2 cups
8 Sliced of Thick Cut Bacon, chopped and cooked until crispy
4 cups of Arugula, washed and dried
3 Cloves of Garlic, minced
1 Tbsp of Olive Oil
Salt and Pepper, to taste
For the Dressing:
2 Avocados
3/4 cup of Greek Yogurt, 2% works well here
2 Cloves of Garlic, peeled
2 Tbsp of Olive Oil
Salt and Pepper, to taste
Juice of 1 Lemon
1 Tbsp of Ranch Dressing Mix
Instructions:
1) Cook the pasta in salted boiling water for about 9 minutes or until al dente, drain and run it under cold water until the pasta is no longer hot, drain it well and place it in a large bowl.
2) In a food processor, add all the ingredients for the dressing (salt it well) and process until smooth, if your dressing is too thick, thin it out with some milk or water to make it a bit more runny.
3) In a small skillet, add the oil and garlic, allow it to sizzle, add the tomatoes along with a pinch of salt and pepper and cook for 45 seconds, remove from the heat and add the tomato mixture right in the bowl with the cooked pasta.
4) Add the bacon, arugula and some of the dressing to the pasta, give everything a good stir and serve right away! Store the remaining dressing in a sealed container in the fridge.