Wow Your Guests With German Oven Pancakes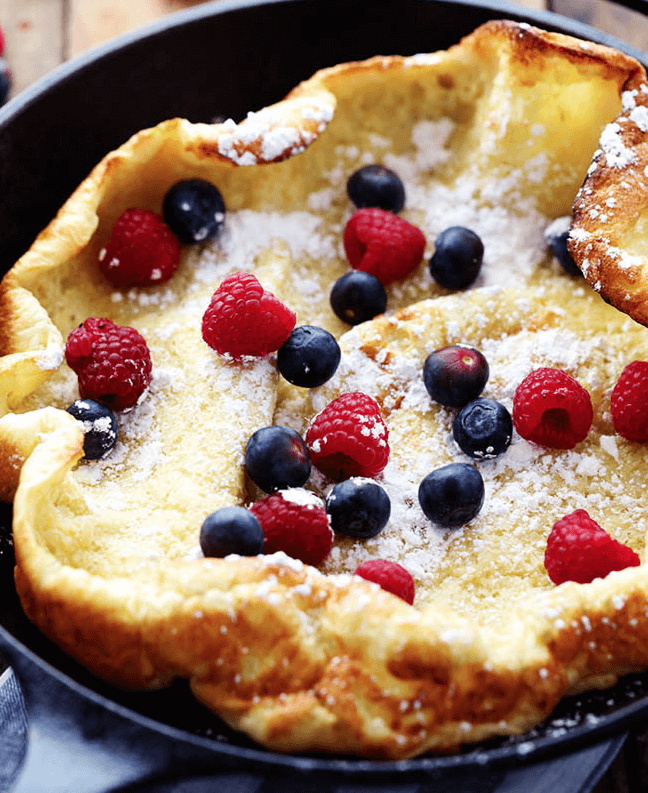 |
These gorgeous looking German Oven Pancakes require only 5 minutes of prep time.
You pour your batter into your oven proof frying pan, pop it in the oven for 12-18 minutes and you are done.  Done is when the edges start to turn brown, which may be even a little sooner,  depending on your oven.
From the photo we can see that Alyssa tops the pancake with raspberries, blueberries and a sprinkles of powdered sugar and it certainly looks beautiful.  I would probably also add some chopped pecans and or walnuts for a little protein and crunch.  But this is your recipe now, so whatever you decide to do to make it your own will be perfect.
Enjoy this with family and friends for a special breakfast or brunch.
German Oven Pancakes
Ingredients
½ cup all purpose flour
3 eggs
½ cup milk
3 tablespoons melted butter, divided
1 tablespoon sugar
¼ teaspoon of salt
Instructions
Preheat oven to 450 degrees. In a medium sized bowl whisk the eggs, milk, melted butter, salt and sugar. Add the flour and stir until incorporated being careful not to over mix.
Add 1 tablespoon melted butter to the bottom of a 9 or 11 inch cast iron skillet. Pour the batter into the skillet and bake for 12-18 minutes or just until the edges start to brown.
Top with desired toppingss