Warm Up With Parmesan Sundried Tomato and Spinach Tortellini Cauliflower Soup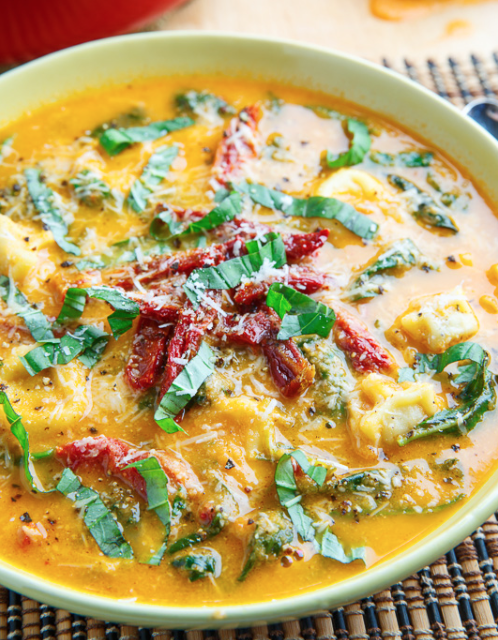 |
Take the chill off your day with comforting and creamy Cauliflower, Spinach and Tortellini Soup.
And let's not forget the Parmesan Cheese and Sundried Tomatoes that pack on so much flavor too. The trick to the creaminess in this soup is using pureed cauliflower instead of heavy cream.  This makes it a lighter soup without sacrificing the creamy taste.  I love that you are getting the goodness and flavor of spinach, cauliflower, sundried tomatoes and basil in this delicious soup too.
Let this soup warm you up anytime, but especially on a cold winter night.
Creamy Parmesan Sundried Tomato and Spinach Tortellini Cauliflower Soup
Prep Time: 5 minutes
Cook Time: 25 minutes
Total Time: 30 minutes
Servings: 6
Ingredients
1 tablespoon oil
1 onion, diced
2 cloves garlic, chopped
red pepper flakes to taste (optional)
6 cups vegetable broth or chicken broth
1 small head cauliflower, cut into florets
8 ounces cheese tortellini (gluten free for gluten free)
1 (8 ounce) jar sundried tomatoes, drained and 1/2 pureed and 1/2 sliced thinly
1/2 cup parmigiano reggiano (parmesan), grated
8 ounces spinach (optionally coarsely chopped)
1/4 cup basil, chopped (optional)
salt and pepper to taste
Directions
Heat the oil in a large pan over medium-high heat, add the onion and cook until tender, about 5-7 minutes.
Add the garlic and red pepper flakes and cook until fragrant, about a minute.
Add the broth cauliflower bring to a boil, reduce the heat and simmer covered until the cauliflower is tender about 10 minutes.
Puree the cauliflower in a blender and return to pan. (Or use an immersion blender in the pan.)
Add the tortellini along with the pureed and sliced sundried tomatoes and simmer until the tortellini is tender, about 5-7 minutes.
Mix in the parmesan, spinach and basil and cook until the cheese has melted and the spinach and basil has wilted before seasoning with salt and pepper to taste and
Option: Use the oil from the sundried tomato jar in step one and save the remaining oil for use in other recipes because it is infused with the sundried tomato flavor!
Nutrition Facts: Calories 308, Fat 9g (Saturated 3g, Trans 0), Cholesterol 22mg, Sodium 462mg, Carbs 46g (Fiber 7g, Sugars 17g), Protein 16g
Nutrition by: Nutritional facts powered by Edamam