Warm And Cheesy Chicken Enchilada Dip
|
This Chicken Enchilada Dip is perfect for any Game Day Party you are planning.
What a combination of deliciousness!  You have chicken, black beans and corn mixed in with enchilada sauce and two kinds of cheese…my oh my.  I would serve this with thick tortilla chips so that they won't break up under the weight of all that yummy goodness.  As a matter of fact, this looks so good I would be tempted to double or triple this recipe, and put some of that dip in to some warm, soft tortillas and serve it for dinner.
Enjoy this quick and easy party dip with family and friends!
Chicken Enchilada Dip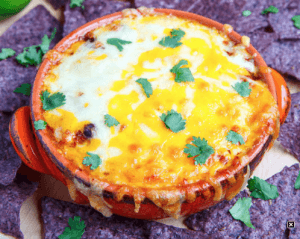 Prep Time: 5 minutes Cook Time: 20 minutes Total Time: 25 minutes Servings: 4
Ingredients
1/2 pound chicken, cooked and shredded
1 cup enchilada sauce, see below
1 cup black beans
1 cup corn
1 cup cheddar cheese, shredded
1 cup montery jack cheese, shredded
Directions
Mix the chicken, enchilada sauce, beans, corn and half of the cheese, place in a baking dish and sprinkle on the remaining cheese.
Bake in a preheated 350F/180C oven until the top is a light golden brown and the sides are bubbling, about 15-20 minutes.
Enchilada Sauce
Prep Time: 5 minutes Cook Time: 15 minutes Total Time: 20 minutes Servings: 4cups
A quick and easy homemade enchilada sauce.
Ingredients
1 tablespoon oil
1 small onion, diced
1 clove garlic, grated
1 teaspoon cumin, toasted and ground
1 (28 ounce) can diced tomatoes
2 chipotle chilies in adobo sauce
1 teaspoon oregano
salt and pepper to taste
Directions
Heat the oil in a pan over medium heat.
Add the onion and saute until tender, about 5-7 minutes.
Add the garlic and cumin and saute until fragrant, about a minute.
Puree the onions and garlic along with the chilies and tomatoes in a food processor and return to pan.
Bring to a boil, reduce the heat, simmer for a few minutes and season with salt and pepper