Three Tempting Gourmet Grilled Cheese Sandwiches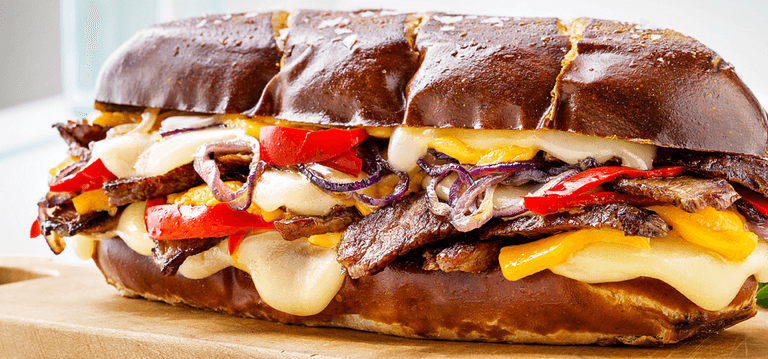 |
Here we have three outrageously good Gourmet Grilled Cheese Sandwiches with all the melt in your mouth deliciousness you could ever want.
The first sandwich is filled with Wisconsin Provolone and American cheeses, cherry peppers, sliced rib eye and red onions all stuffed in to a pretzel roll.  It was inspired by the City of Brotherly Love, Philadelphia, and aptly called The Balboa.  And, not surprisingly, it was also the 2015 Judge's Choice Award Winner.
The next grilled goodness is called The Adriatic, filled with tomatoes, basil, fresh mozzarella, feta cheeses and more.
And last but not least, we have The Pilgrim.  I think this might be my personal favorite.  I am always looking for creative ways to make a turkey sandwich and I think I have found a winner here. Along with the smoked turkey, The Pilgrim has spinach, Wisconsin Gouda, cranberry Dijon mustard and as if that wasn't enough, the bread is seasoned with sage leaves and butter.  I think that says it all.  Total yum!
If you love cheese, prepare to fall in love with one of these sandwiches.
Please click page two for recipe details for The Balboa.