Tasty Thai Peanut Chicken Saute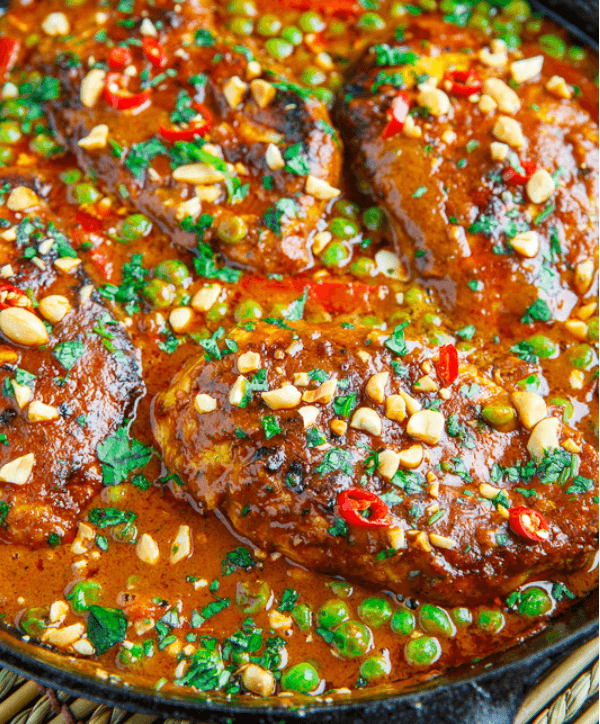 This tender Thai Peanut Chicken Sauté is a wonderful combination of sweet, salty and spicy.
This is a totally yummy one pot meal that can be on your table within 30 minutes.  In this recipe, Kevin adds peas and red peppers.  However, I think asparagus or another of your favorite vegetables would work just as well.
This dish would be perfect over rice, pasta or even some quinoa.  Whatever suites your fancy!
Treat yourself to this well seasoned and delicious dish soon.
Thai Peanut Chicken Saute
Prep Time: 10 minutes
Cook Time: 20 minutes
Total Time: 20 minutes
Servings: 4
Ingredients
1 tablespoon oil
4 (6 ounce) skinless and boneless chicken breasts, pounded thin
1 red pepper, sliced
1 tablespoon red curry paste
1 (14 ounce) can coconut milk
1/4 cup peanut butter
3 tablespoons fish sauce
2 tablespoons lime juice
2 tablespoons palm sugar (or brown sugar)
1 tablespoon chili sauce such as sriracha (or to taste)
1 cup peas
2 tablespoon cilantro, chopped
Directions
Heat the oil in a pan over medium-high heat, season the chicken with salt and pepper, add the chicken to the pan and cook until lightly golden brown on both sides and cooked through, about 5 minutes per side, before setting aside.
Add the pepper to the pan and saute for 2 minutes.
Add the red curry paste to the pan and saute until fragrant, about a minute.
Add the coconut milk. peanut butter, fish sauce, lime juice, sugar and chili sauce and cook, stirring, until the peanut butter has melted.
Add the chicken, peas and cilantro, remove from heat and enjoy!
Option: Marinate the chicken, chicken satay style, for even more flavour!
Note from YummyTummyZone:  Even though it's not mentioned in Kevin's recipe, it looks likes there are some peanuts sprinkled on top.  I would probably add at least 1/4 cup of chopped peanuts just before you are ready to serve…or not.  Whatever you prefer.