Tasty Slow Cooker Cashew Chicken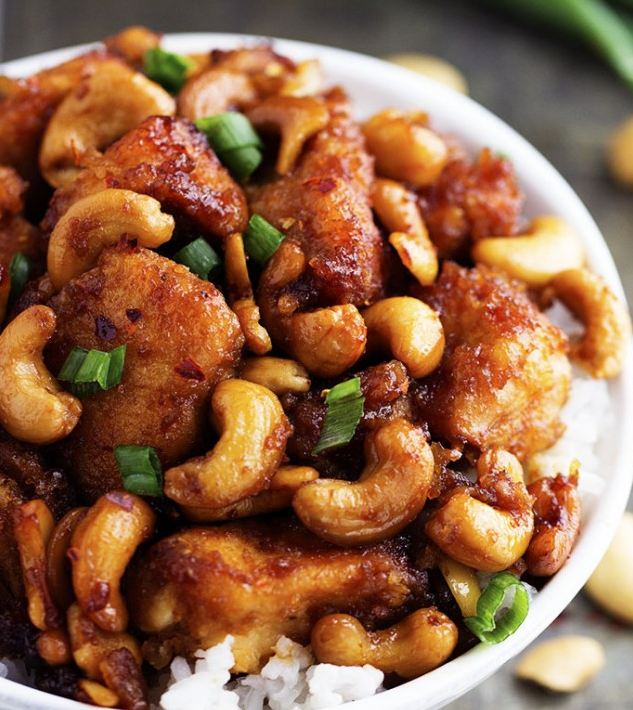 |
This deliciously flavorful Slow Cooker Cashew Chicken is better than takeout!
As Alyssa points out, coating the chicken with cornstarch and then browning for two minutes on each side makes this recipe even better.  Be sure not to skip this part.  It will also give your sauce a nice thickness too.  Personally, I prefer my nuts crunchy, so I vote for putting them on just before serving.
Try this recipe soon and watch it become a family favorite.
Slow Cooker Cashew Chicken
Ingredients
2 lbs boneless skinless chicken breasts (About 4 pieces)
3 Tablespoons Cornstach
½ tsp black pepper
1 Tbsp canola oil
½ cup soy sauce
4 Tbsp rice wine vinegar
4 Tablespoons ketchup
2 Tablespoons sweet chili sauce
2 Tbsp brown sugar
2 garlic cloves, minced
1 tsp grated fresh ginger
¼ tsp red pepper flakes
1 cup cashews
Instructions
Combine cornstarch and pepper in resealable food storage bag. Add chicken. Shake to coat with cornstarch mixture.
Heat oil in skillet over medium-high heat. Brown chicken about 2 minutes on each side. Place chicken in slow cooker.
Combine soy sauce, vinegar, ketchup, sweet chili sauce sugar, garlic, ginger, pepper flakes, and cashews in small bowl; pour over chicken. (I like my cashews to be softer so I add them during the cooking process, if you want more of a crunch, add them right before serving)
Cook on LOW for 3 to 4 hours.
Serve over rice. Makes 4-6 servings.