Tasty Chicken Club Pasta Salad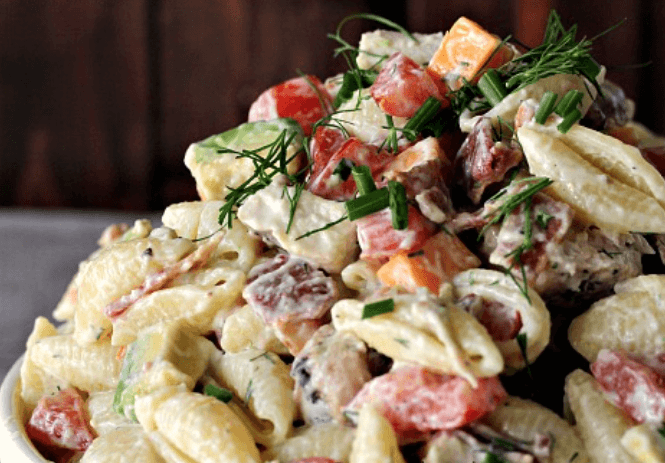 This delicious Chicken Club Pasta Salad is perfect for lunch, dinner or a side.
The 2 cups of chicken and the crisp bacon gives this pasta salad lots of protein.  And when you add the cheddar cheese, tomatoes and avocado, you have a total love-fest of flavor.
Holly gives us the recipe for her own yummy ranch salad dressing too.  And if you have any dressing leftover, you can always use it for a veggie dip. However, if you are running short on time, go right ahead and use your favorite store bought ranch dressing.  The salad will still be great.
In the recipe, she adds the avocado along with all the other ingredients.  Avocado will turn dark within a few hours of being exposed to the air.  Therefore, unless you are serving this salad right away, I would hold off and add the diced avocado just before serving.
Try this salad soon and you'll get lots of requests to make it again!
Chicken Club Pasta Salad
Serves: 6 servings
Ingredients
8 oz pasta (I used shells)
8 slices bacon, cooked & drained
2 cups cooked chopped chicken
½ avocado, diced
1 tomato, seeded & diced
½ cup cheddar cheese, cubed
Dressing
½ cup buttermilk
½ cup mayonnaise
½ cup sour cream
1 tablespoon chives
1 tablespoon fresh dill
1 tablespoon fresh parsley
1 teaspoon onion powder
1 teaspoon garlic powder
salt & black pepper to taste
Instructions
Combine all dressing ingredients and set aside.
Cook pasta according to directions. Rinse under cold water.
Toss all ingredients in a large bowl except dressing. Add dressing to taste (there may be leftover dressing).