Sweet & Spicy Asian Glazed Orange Chicken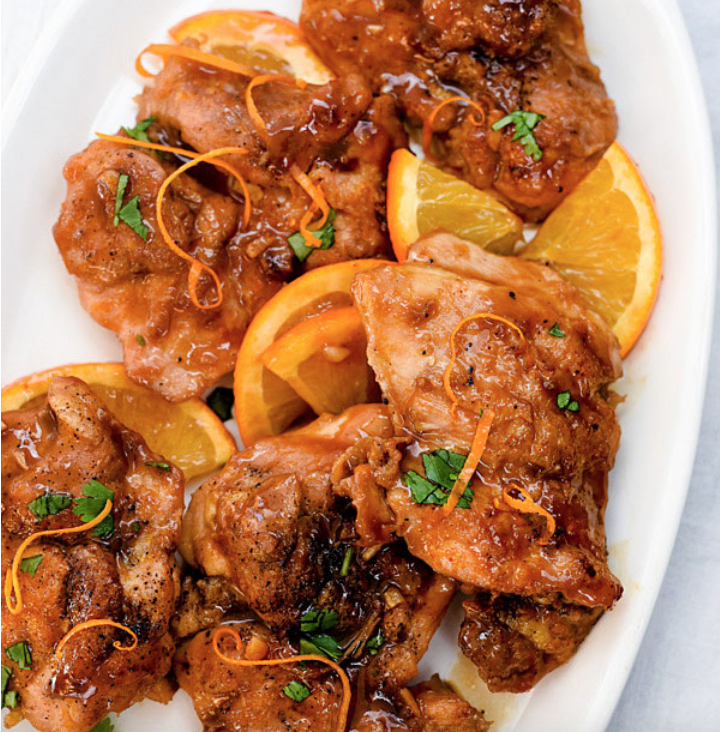 This homemade version of Asian Glazed Orange Chicken is way better than take out.
If your memory of Orange Chicken is over fried and in a too sweet orange sauce, you want to try this recipe.
Heidi makes this recipe with skinless, boneless chicken thighs without the skin.  As this is cooked in the sauce, the skin is unnecessary and actually better without it.
This recipe also calls for 1 cup of freshly squeezed orange juice.  If that is not available to you, yes, you can use pre-made juice but it is very important to use a high quality juice.  Do not use juice from a frozen concentrate.  You will taste the difference.  The reason some recipes, like this one, taste so good is that they use quality ingredients.
Enjoy this tasty dish with family and friends!
Sweet & Spicy Asian Glazed Orange Chicken
SERVES 4
Ingredients
8 skinless, boneless chicken thighs
Kosher salt and frehly ground balck pepper
1 tablespoon olive oil
1 cup fresh squeezed orange juice, from about 3-4 oranges
1 cup chicken broth
½ cup brown sugar
½ cup hoisin sauce
4 cloves garlic, minced or pressed
2 heaping tablespoons orange zest
1-inch knob ginger, peeled and grated
1 teaspoon sriracha sauce
Cilantro leaves and additional sliced orange for garnish
Instructions
Preheat oven to 350 degrees F.
Season the chicken thighs with kosher salt and freshly ground black pepper. Heat the oil in a frying pan over medium high heat. Place half of the chicken thighs in the pan and sear both sides of the chicken until lightly browned on both sides. Transfer to a plate and repeat with the remaining thighs.
In a medium bowl, whisk the remaining ingredients until well combined. Pour into the same pan and cook the sauce over medium heat and cook until reduced by a third. Add the chicken back to the pan and and bake in the oven for 20 minutes or until the chicken reaches an internal temperature of 165 degrees F.
Remove the chicken from the fry pan and transfer to a serving platter, reserving the glaze in the pan.
Tent the chicken with aluminum foil to keep warm.
Cook the glaze over medium heat until the sauce is reduced by another third. Drizzle over the chicken and garnish with cilantro and sliced oranges if desired.s