Spinach and Artichoke Dip Tortellini Soup Is A Genius Idea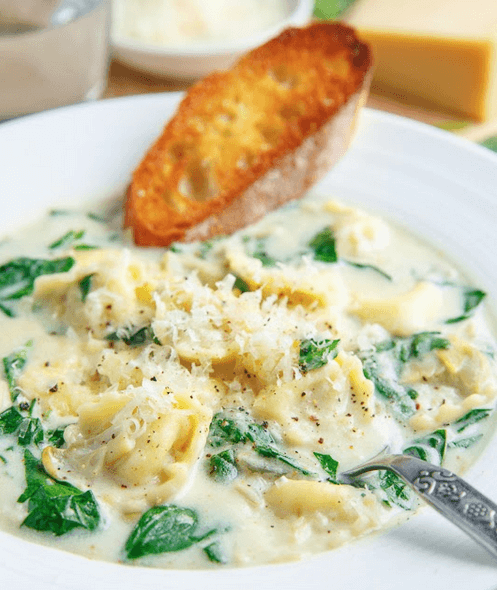 If you love Spinach and Artichoke Dip, you'll be as thrilled as I was to find this great recipe.
Have you ever thought you could make a whole meal out of Spinach Artichoke Dip?  Well, I'm happy to report that now you can with this brilliantly creative soup.  This soup starts with the basics for the dip, like chopped artichokes, spinach, cream cheese and Parmesan cheese.  Then you'll want to add broth and milk or cream to give it a soup consistency.   And, of course,  let's not forget to make it more substantial with some cheese tortellini.  Wow!  I don't think it gets any better than this.
Okay, now it's time to run out and buy all the ingredients you need to make this incredibly delicious soup.
Spinach and Artichoke Dip Tortellini Soup
Prep Time: 10 minutes
Cook Time: 20 minutes
Total Time: 30 minutes
Servings: 4
Ingredients
2 tablespoons butter
1 onion, diced
2 cloves garlic, chopped
2 tablespoons flour (rice flour for gluten free)
4 cups vegetable broth or chicken broth
1 (14 ounce) can artichoke hearts, coarsely chopped
8 ounces cheese tortellini (gluten free for gluten free)
4 ounces low fat cream cheese, room temperature
1/2 cup parmigiano reggiano (parmesan), grated
8 ounces spinach, coarsely chopped
1 cup milk or cream
salt and pepper to taste
cayenne to taste (optional)
Directions
Melt the butter in a pan over medium heat, add the onion and cook until tender, about 5-7 minute.
Add the garlic and cook until fragrant, about a minute.
Add the flour and cook for another minute.
Add the broth, artichokes and tortellini, bring to a boil, reduce the heat and simmer until the tortellini is tender, about 10 minutes.
Add the cheeses, let them melt, add the spinach, let it wilt, add the milk, season with salt, pepper and cayenne to taste and remove from heat.
This is such a flexible recipe.  Here are just a few of the options you could try.
Option: Omit the tortellini to make the soup more of an appetizer rather than a complete meal.
Option: Replace the tortellini with cooked, shredded chicken and/or white beans. (If you add white beans, pureed half of them and use them as the thickening agent instead of the flout.)
Option: Add sliced sun-dried tomatoes.
Option: Add bacon!