Spicy Chipotle Lime Salmon With Creamy Avocado Salsa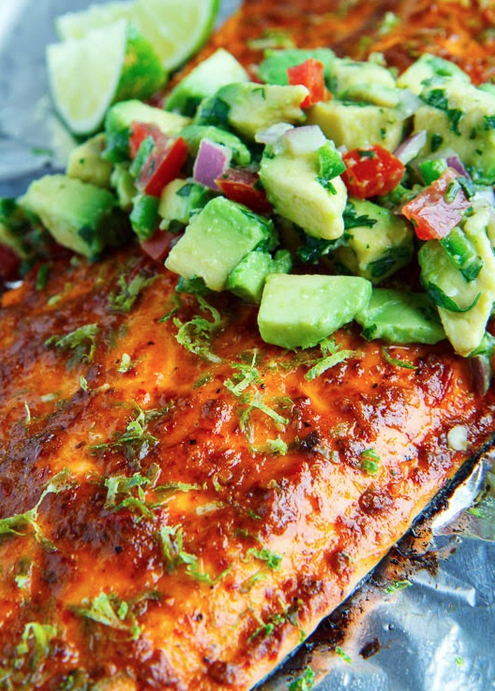 The smokey flavor and light spiciness of this Chipotle Lime Salmon combined with the cool creaminess of Avocado Salsa is a perfect match.
This is a simple and delicious dish that you can bake or grill.  And, if you have any leftovers, they would be be great in tacos, quesadillas or a salad…yum!
Make this healthy and delicious dish once, and expect many requests to do it again!
Chipotle Lime Salmon with Avocado Salsa
Prep Time: 5 minutes Cook Time: 10 minutes Total Time: 15 minutes Servings: 6
2 tablespoons oil
1 lime, juice and zest
1 chipotle chili in adobo (or to taste)
2 teaspoons adobo sauce
1/2 teaspoon cumin
1 clove garlic, grated
salt and pepper to taste
2 pound salmon fillet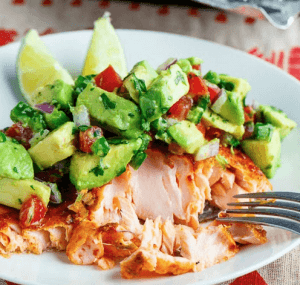 Directions
Puree the oil, lime juice and zest, chipotle chilies, adobo sauce, cumin and garlic in a blender or food processor until smooth, place the salmon on foil on a baking sheet, pat dry, season with salt and pepper, spread on the chipotle mixture and bake in a preheated 400F/200C oven (or barbecue) until just cooked, about 10-15 minutes.
Nutrition Facts: Calories 251, Fat 14.1g (Saturated 2g, Trans 0), Cholesterol 67, Sodium 161mg, Carbs 2.5g (Fiber 0.7g, Sugars 1g), Protein 29.5g
Nutrition by: Nutritional facts powered by Edamam
Please see page two for Avocado Salsa Recipe