Sensational Spinach Artichoke Dip Pasta Salad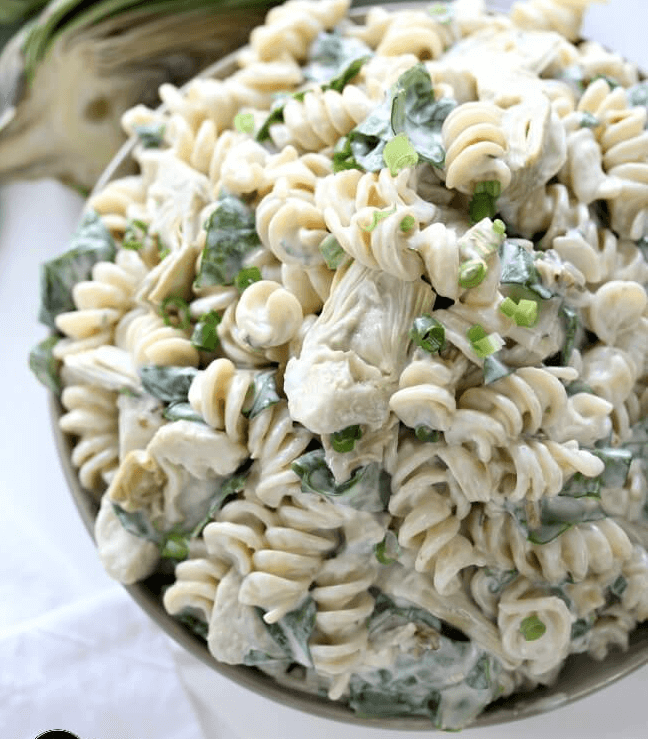 Prepare to fall in love with this Spinach Artichoke Dip Pasta.
If you are one of the many people like me that is always ordering this dip when you go out, you've got to try this recipe.
It is super easy to make and the vegetable soup mix combined with the artichokes gives it lots of flavor.
As Holly suggests, I would use a rotini, or a shell pasta as both will capture a lot of the dressing. And while this dish calls for sour cream and mayo, you can always lighten it up by using a light mayonnaise such as Best Foods or Hellman's.  You can also replace the sour cream with a light sour cream or even Greek yogurt.
This makes a perfect side dish or add some left over chicken and you have an easy and delicious entree.  Enjoy!
Spinach Artichoke Dip Pasta Salad
Prep Time  15 mins
Serves: 12 servings
Ingredients
12 oz pasta (I used rotini)
1 cup sour cream
¾ cup mayonnaise
1 package (1.4 oz) vegetable soup mix
3 green onions, sliced
1 can water packed artichokes
4 cups chopped & lightly packed fresh spinach
Instructions
Cook pasta el dente according to package directions.
In a large bowl combine sour cream, mayonnaise and dry soup mix.
Drain artichokes well and cut into quarters.
Toss pasta with sauce. Gently fold in spinach, green onions and artichokes.
Refrigerate 1 hour before serving