Roasted Asparagus and Mushroom Carbonara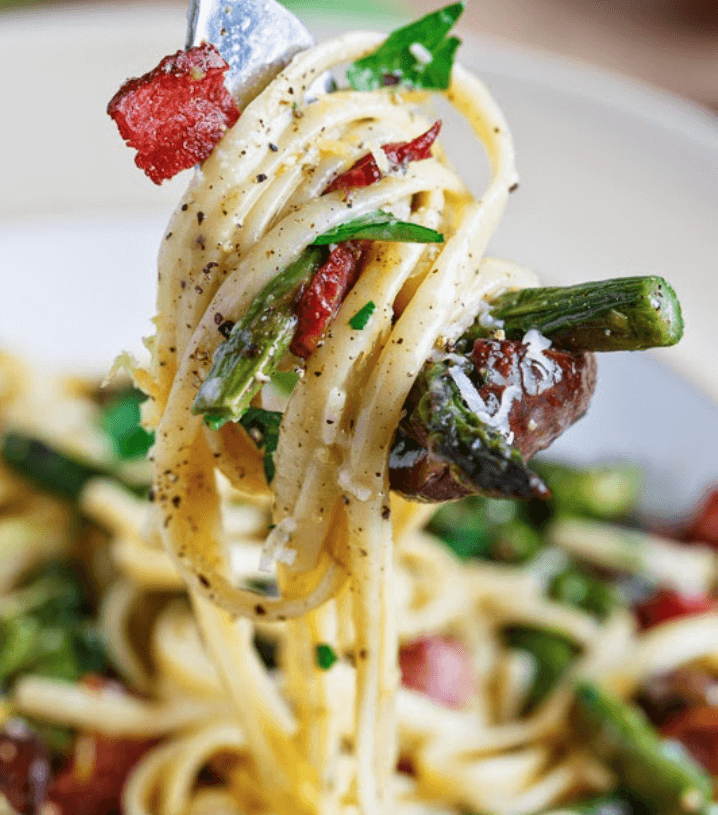 Roasted Asparagus and Mushroom Carbonara is delicious and when you add bacon, it becomes amazing!
Just look at how good this dish looks in the photo.  And that is just a preview of how yummy this dish will taste.  And to make it even more tempting, this recipe is easy to put together.  To save time, you can be cooking the bacon while your vegetables are roasting.
Enjoy this oh so flavorful dish soon with family and friends.
Roasted Asparagus and Mushroom Carbonara
Prep Time: 10 minutes
Cook Time: 40 minutes
Total Time: 50 minutes
Servings: 4
Ingredients
1 pound asparagus, trimmed and cut into bite sized pieces
8 ounces mushrooms, quartered
1 tablespoon olive oil
salt and pepper to taste
8 ounces fettuccine (or pasta of choice) (gluten free for gluten free)
4 ounces bacon cut into 1 inch pieces or 4 ounces pancetta, diced
1 clove garlic, chopped
2 eggs
1/2 cup (2 ounces) parmigiano reggiano (parmesan), grated
plenty of fresh cracked black pepper
salt to taste
1 tablespoon parsley, chopped
Directions
Toss the asparagus and mushrooms in the oil, salt and pepper, place on a baking sheet in a single layer and roast in a preheated 400F/200C oven until they start to caramelize, about 20-30 minutes, mixing half way through.
Start cooking the pasta as directed on the package.
Cook the bacon in a pan, pour off all but a tablespoon of the grease from the pan, add the garlic, cook for 30 second and turn off the heat.
Mix the egg, cheese, pepper and salt and parsley in a bowl.
Drain the cooked pasta reserving some of the water.
Mix the pasta, egg mixture, asparagus and mushrooms into the pan with the bacon,adding reserved pasta water as needed.
Note: To speed things up, about 20 minutes into roasting the asparagus and mushrooms, get your pot of water for the pasta on the stove and start bringing it to a boil.
Option: Replace the parmigiano reggiano with pecorino romano.