Recipe Secrets For The Most Yummy Reuben Sandwich Ever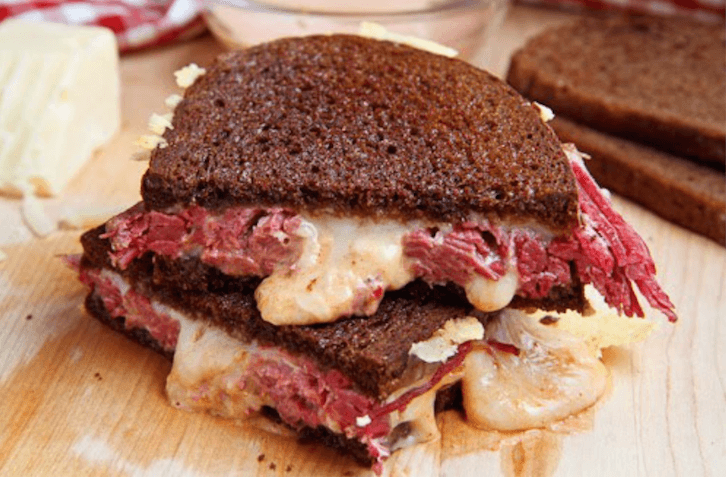 |
If you are lucky enough to have some corned beef leftovers, we have a top notch Reuben Sandwich recipe that we think you're going to love!
And this is so good, that if you don't have any leftovers, you can always pick up some corned beef at your local deli.  Or even better, make the delicious and easy slow cooker corned beef recipe that I have already posted on our site.  You can put it in your slow cooker in the morning and have it ready that evening…yum.
As you probably know, the traditional Reuben sandwich is made with juicy corned beef, sauerkraut, Russian dressing and warm, melting swiss cheese between two slices of rye bread.  The only problem with some of those juicy ingredients is that it can make for a soggy Reuben sandwich and obviously, we don't want that.
Well, in this recipe, Kevin Lynch has some up with some tips to prevent all of that.  Most importantly, be sure to squeeze out the excess liquid in your sauerkraut.  If it is especially moist, you can use a frying pan to saute even more of the juice out.  Also, lightly toasting your bread before putting in all the ingredients will help it withstand some additional juiciness and prevent soggy bread syndrome.
You can always buy your favorite Russian dressing but Kevin's recipe below is easy to make with a nice bite to it.
Enjoy this perfectly delicious sandwich with family and friends.
Reuben Sandwich
Prep Time: 5 minutes
Cook Time: 5 minutes
Total Time: 10 minutes
Servings: 1
Ingredients
1 tablespoon butter, room temperature
2 slices rye, lightly toasted
1/2 cup swiss, shredded, room temperature
2 tablespoons sauerkraut, squeezed and drained, coarsely chopped
1 tablespoon russian dressing (see below)
2 ounces cooked corned beef, sliced or shredded, warm
Directions
Heat a non-stick pan over medium heat.
Butter the outside of each slice of bread, sprinkle half of the cheese on the inside of one slice of bread, top with half of the sauerkraut, half of the russian dressing, the corned beef, the remaining russian dressing, sauerkraut, cheese and finally the other slice of bread.
Add the sandwich to the pan and grill until golden brown and the cheese has melted, about 2-4 minutes per side.
Russian Dressing
Prep Time: 5 minutes
Total Time: 5 minutes
Servings:      1 cup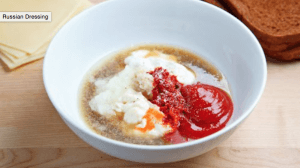 Ingredients
1/4 cup mayonnaise
1/4 cup sour cream
1/4 cup ketchup
1 tablespoon Worcestershire sauce
2 tablespoons onion, grated
1 tablespoon horseradish
1/2 lemon, juice
1/4 teaspoon chili sauce
1/4 teaspoon paprika
salt and pepper to taste
Directions
Mix everything.
For more information about this delicious recipe and many more, be sure to check out Kevin's site.