Popular Chicken Parmesan In A Creamy Sun Dried Tomato Sauce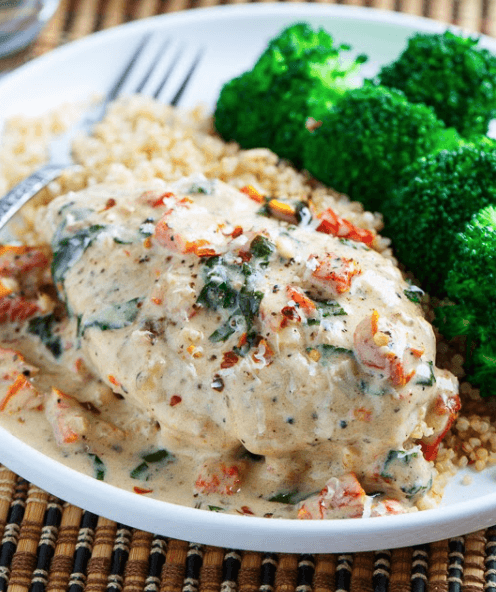 This creamy Chicken Parmesan is easy to prepare and loaded with flavor.
Once you've cooked the chicken in the pan, you make the sauce in the same pan.  Serve this over rice with a veggie or put it over pasta…yum.
This is a very versatile dish that is sure to get many requests from family and friends.  Enjoy!
Chicken in a Creamy Parmesan and Sun Dried Tomato Sauce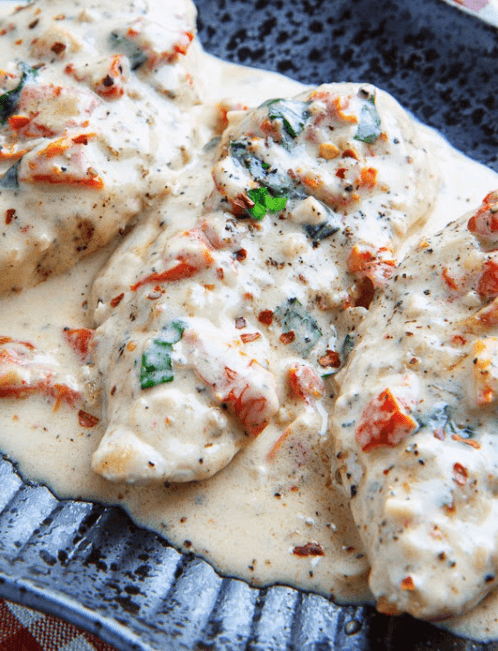 Prep Time:           10 minutes
Cook Time:          15 minutes
Total Time:          25 minutes
Servings:                4
Ingredients
1 tablespoon oil
4 (~6 ounce) skinless and boneless chicken breasts, pounded thin
2 cloves garlic, chopped
1/4 teaspoon red pepper flakes
1/4 cup dry white wine (or chicken broth)
3/4 cup chicken broth
1/2 cup heavy/whipping cream
1/4 cup oil packed sundried tomatoes, chopped
1/4 cup parmigiano reggiano (parmesan), grated
salt and pepper to taste
1/4 cup fresh basil, thinly sliced (or 1 teaspoon dried basil)
Directions
Heat the oil in a pan over medium-high heat, add the chicken and cook until lightly golden brown on both sides and cooked through, about 5 minutes per side, before setting aside.
Add the garlic and red pepper flakes and saute until fragrant, about a minute.
Add the wine and deglaze the pan.
Add the broth, cream, sundried tomatoes and parmesan, bring to a boil, reduce the heat and simmer until the sauce thickens a bit, about 3-5 minutes.
Mix in the chicken along with any juices, season with salt and pepper to taste, remove from heat and mix in the basil.
Option:  Add chopped spinach to the sauce.
Nutrition Facts: Calories 326, Fat 12.8g (Saturated 5g, Trans 0), Cholesterol 155mg, Sodium 330mg, Carbs 2g (Fiber 0.5g, Sugars 0.5g), Protein 55.5gNutrition by: Nutritional facts powered by Edamam