Pizza Dip Scores Big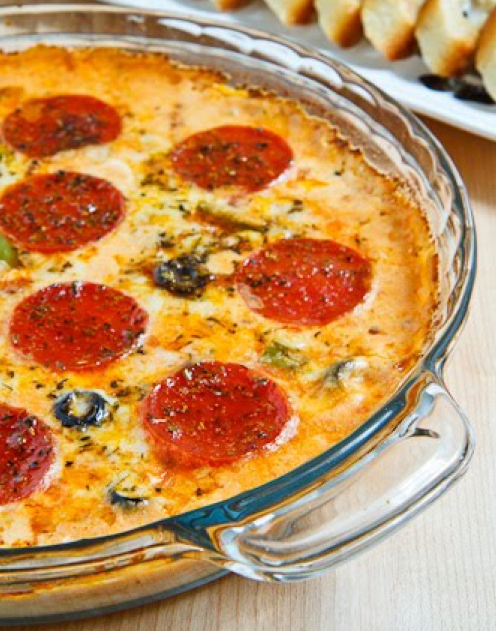 |
If you like pizza, you're going to love this Pizza Dip!
This is an amazing party appetizer that people will go crazy over.  It's baked in a pie plate to give it the look of a pizza too.  With that in mind, feel free to put your favorite pizza toppings on it.  Maybe some mushrooms, pepperoni, olives and cheese, cheese and more cheese.  Whatever appeals to your pizza loving taste buds.
As Kevin suggests, I would serve this masterpiece with some toasted, garlic rubbed baguette slices to scoop up all that melted cheese goodness.
This over the top dip will definitely score big at your next party.  Enjoy!
Pizza Dip
Prep Time: 10 minutes Cook Time: 20 minutes Total Time: 30 minutes Servings: 4
Ingredients
4 ounces cream cheese, room temperature
1/4 cup sour cream
1/4 cup mayonnaise
1/2 cup mozzarella, shredded
1/4 cup parmigiano reggiano (parmesan), grated
1 cup pizza sauce *
1/2 cup mozzarella, shredded
1/4 cup parmigiano reggiano (parmesan), grated
2 ounces pepperoni, sliced
2 tablespoons green pepper, sliced
2 tablespoons black olives, sliced
Directions
Mix the cream cheese, sour cream mayonnaise, mozzarella and parmigiano reggiano and spread it across the bottom of a pie plate.
Spread the pizza sauce on top and sprinkle on the cheese, pepperoni, green pepper and olives.
Bake in a preheated 350F/180C oven until the sides are bubbling and the cheese cheese has melted and turned golden brown on top, about 20 minutes.
Or in a Slow Cooker: Layer everything in the slow cooker the same as in the pan and cook until the cheese is nice and melted about 1-2 hours on high or 2-4 hours on low.
*Note from Yummy Tummy Zone:  Above is a link to Kevin's homemade pizza sauce.  It is delicious, however, if  you are running low on time, you can always get store bought.