Outrageously Good Jalapeno Popper Corn Fritters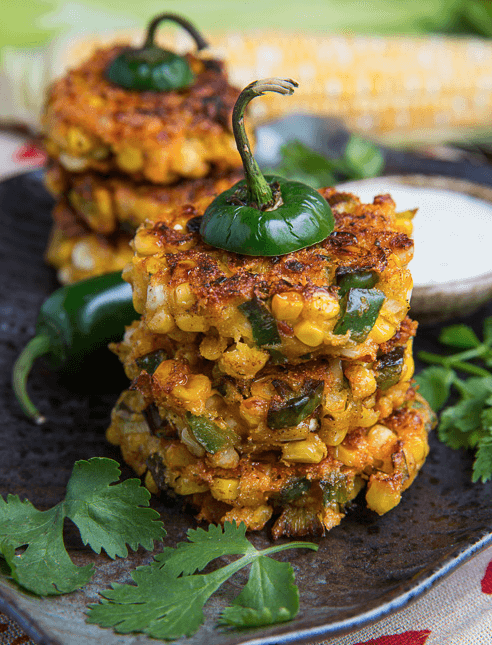 |
Just look at these incredible Jalapeno Popper Corn Fritters!
In addition to their eye appeal, these crispy corn fritters are filled with cheddar cheese, cream cheese, bacon and other goodies.  And if that isn't enough, you can always add some sliced avocado between the fritters and top it all off with some Jalapeno Popper Dressing…or not.
These corn fritters are sure to make a great impression at your dinner table.
Jalapeno Popper Corn Fritters
Prep Time: 10 minutes
Cook Time: 20 minutes
Total Time: 30 minutes
Servings: 2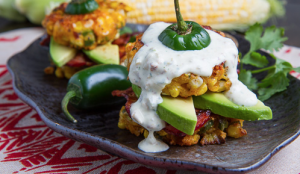 ingredients
2 cups corn (~4 ears)
1/2 cup flour* (or corn flour, or rice flour, etc)
1 egg
1/2 cup cheddar cheese, grated
1/4 cup cream cheese, room temperature
2+ jalapeno peppers, diced
2 slices bacon, cooked and crumbled (optional)
1 teaspoon smoked paprika
1 teaspoon coriander, toasted and ground
2 green onions, sliced
1 handful cilantro, chopped
1 lime, zest and juice
2 tablespoons oil
Directions
Mix the corn, flour, egg, cheddar cheese, cream cheese, jalapenos, bacon, paprika, coriander, green onion, cilantro and lime juice in a bowl.
Heat the oil in a pan over medium heat, form into 1/4 cup patties and cook until golden brown on both sides, about 2-4 minutes per side.