One Pot Creamy Shrimp Fajita Pasta Skillet Meal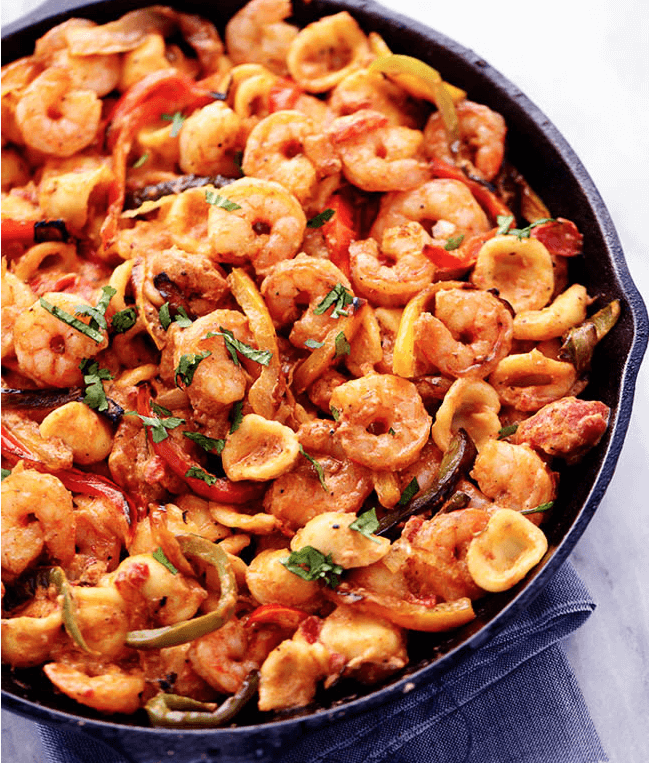 This delicious Creamy Shrimp Fajita Pasta has everything to love in one dish.
Besides combining the delicious flavors of shrimp, bell peppers, onion and pasta, you get easy preparation in one skillet.  Yes, you are using another pot to boil your pasta, but that hardly counts.  And speaking of pasta, of course you can use whatever pasta shape you like.  However, I do think Alyssa's choice of a shell pasta is a good one as it helps capture some of that creamy sauce.
Also, if you have your own favorite Fajita Seasoning Mix, feel free to use it.  If you don't, McCormick's Seasoning Mix is a great tasty choice.  And adding this to the cream cheese, chicken broth and cheddar cheese…OMG!
This is already an easy and fast meal to prepare but you can also purchase pre-cooked shrimp and pan sear it for a couple of minutes for extra flavor if you prefer.
If you love shrimp like we do, I think you've just found a new family favorite!
CREAMY SHRIMP FAJITA PASTA SKILLET
Prep time          10 mins
Cook time         15 mins
Total time         25 mins
Serves: 6
Ingredients
16 ounce pasta (I used medium shells)
2 Tablespoons olive oil, divided
3 bell peppers, thinly sliced (I used a red, yellow, and green)
1 small onion, sliced
1 pound small shrimp, peeled and deveined
1 package McCormick Fajita Recipe Mix, divided
1 (14 ounce) can diced fire roasted tomatoes
½ cup chicken broth
½ cup heavy cream
4 ounce cream cheese, softened
1 cup shredded cheddar cheese
chopped cilantro for garnish, optional
Instructions
In a large pot cook pasta according to directions. Rinse and drain. Set aside.
In a large skillet add 1 Tbsp olive oil. Add peppers and onion and sauté until tender. Set aside on a plate.
Add another 1 Tbsp olive oil and cook shrimp 2-3 minutes or until pink and edges are lightly brown. Add 1 Tablespoon Fajita Recipe Mix and sprinkle on top of shrimp. Set shrimp aside on plate.
Add fire roasted tomatoes, chicken broth, heavy cream, cream cheese, and remaining fajita seasoning packet to the skillet. Heat over medium high heat until cream cheese is melted and sauce has thickened about 3 minutes. Add cheddar cheese and continue to stir until melted.
Add pasta, peppers and shrimp back to the creamy sauce and toss until coated in the sauce and heated throughout.
Serve immediately.
A big thanks to Alyssa of therecipecritic.com for sharing this delicious dish.  For more details on this recipe or many more great recipes, please visit her site.