Memorable Chicken Marsala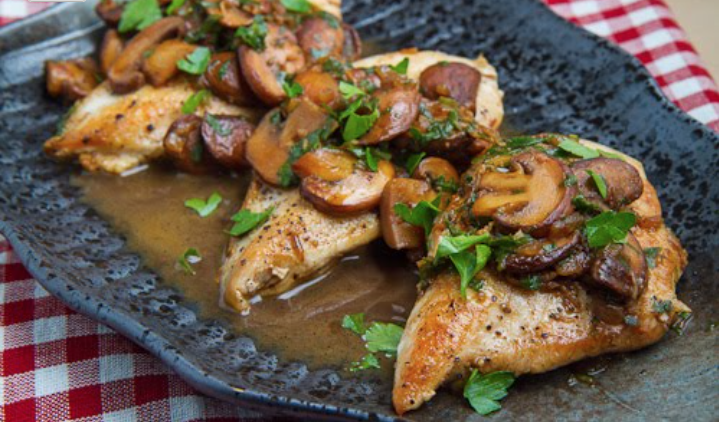 This Chicken Marsala is loaded with flavor and so easy to make.
As a matter of fact, you can have this on your dinner table in 40 minutes.  The chicken breasts are pounded thin and sautéed in a pan with Marsala wine.  You can get dry Marsala or sweet. The recipe doesn't mention which to use but personally, I would definitely go with the dry Marsala.
I think the combination of chicken and mushrooms always go well together.  And then making an easy pan sauce with the mushrooms and Marsala makes for a delicious flavor.
You can serve this over pasta or rice or maybe some mashed potatoes to capture that yummy pan sauce.
Whatever you decide, I hope you serve it soon.  Enjoy!
Chicken Marsala
Prep Time: 10 minutes
Cook Time: 30 minutes
Total Time: 40 minutes
Servings: 4
Ingredients
 
1 tablespoon oil
4 small chicken breasts, pounded thin and seasoned with salt and pepper
1 tablespoon butter
8 ounces mushrooms, sliced
1 medium shallot, finely diced
1 clove garlic, chopped
1/2 cup marsala
1 cup chicken broth
2 tablespoons lemon juice (~1/2 lemon)
salt and pepper to taste
1 tablespoon butter
1 tablespoon parsley, chopped
Directions
Heat the oil in a large pan over medium-high heat, add the chicken and cook until browned, about 2-3 minutes per side and set aside.
Add the butter and mushrooms and saute until browned on both sides, about 7-8 minutes.
Add the shallot and saute for 1 minute.
Add the garlic and saute for half a minute.
Add the marsala, deglaze the pan, add the chicken broth and lemon juice, bring to a boil and let simmer until reduced by half, about 5-7 minutes.
Season with salt and pepper, mix in the butter and return the chicken to the pan and cook for 2-3 minutes.
Mix in the parsley and remove from heat.