Marinated Maple Miso Dijon Salmon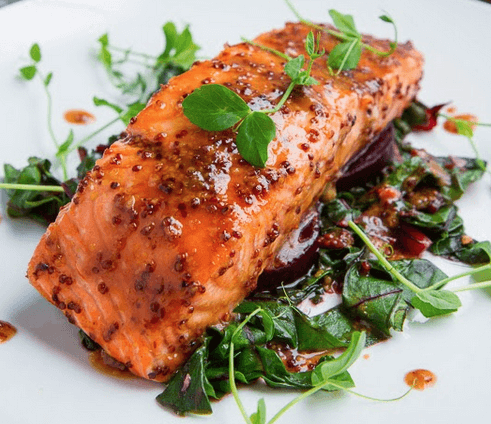 This Maple Miso Dijon Salmon is simply sensational!
You are probably familiar with using a honey dijon in a marinade but instead of using honey here we are using maple syrup.  It has a unique flavor all its own and then Kevin adds the Japanese inspired miso.  Miso is a fermented soybean paste.  This combination adds another layer of goodness to this already delicious recipe.
This marinade will also be great on halibut, chicken, asparagus, green beans or other veggies of your choice.  This is a quick and easy dish.  It only takes 5 minutes to mix your marinade, pop it in the frig over night and bake it for 10 minutes the following evening.  If you prefer, you can also marinate your salmon in the morning of the day that you will be serving it.
I would serve this on a bed of sauteed spinach or with a green salad.  Or as Kevin does, enjoy this amazing salmon over roasted beets and sauteed beet greens.
Maple-Miso Dijon Salmon
Prep Time: 5 minutes Cook Time: 10 minutes Total Time: 15 minutes Servings: 4
Ingredients
4 (6 ounce) salmon fillets
1/4 cup maple syrup
2 tablespoon grainy mustard
1 tablespoon dijon mustard
1 tablespoon white miso paste
1 tablespoon rice vinegar
2 teaspoons soy sauce
1 clove garlic, grated
Directions
Place the salmon in a baking dish, brush with the mixture of the maple syrup, mustards, miso, vinegar, soy sauce and garlic and bake in a preheated 400F/200C oven until the salmon just starts to flake easily, about 10 minutes.
Option: Marinate the salmon in the glaze for 30+ minutes before baking.
For more details on this recipe, please visit Kevin's inspiring website.