Lasagna Soup – A New Favorite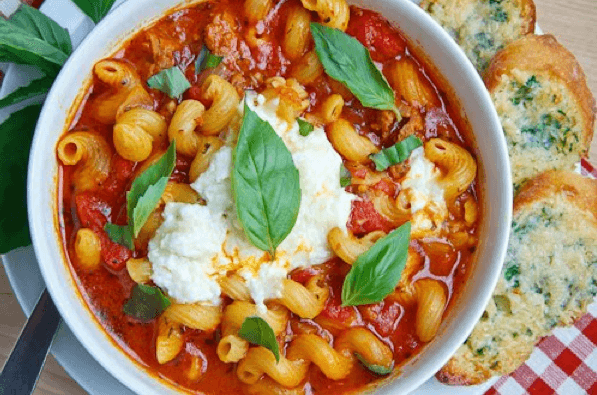 It is not a far reach to go from one of our all time favorites, Lasagna, to Lasagna Soup.
And aren't we glad that someone thought of this! This is a great soup any time of the year but I think is is especially comforting in Fall and Winter.
You can also serve this hearty soup as dinner, along with a salad. If you want to make this lighter, you can always substitute Italian turkey sausage for the traditional kind.
As mentioned in the recipe, just be sure to add the pasta in the last 7 minutes of cooking so that it doesn't overcook. And I love the idea of just using the 3 cheeses as a garnish at the end when the soup is hot and bubbly…yum.
Share this soup with family and friends and make everyone happy!
Lasagna Soup
Prep Time: 5 minutes
Cook Time: 55 minutes
Total Time: 1 hour
Servings: 4
Ingredients
1 tablespoon oil
1 pound Italian sausage, casings removed
1 onion, diced
2 cloves garlic, chopped
1/2 teaspoon red pepper flakes
1/2 teaspoon fennel seeds, crushed
4 cups chicken broth or chicken stock
1 (28 ounce) can diced tomatoes
2 tablespoons tomato paste
1 teaspoon oregano
1 bay leaf
salt and pepper to taste
1/2 pound pasta (gluten free for gluten free)
4 ounces ricotta**
1/2 cup Parmesan, grated
2 cup mozzarella, shredded**
1 handful basil, chopped
**Note from Yummy Tummy Zone:  You can lower your calories and fat by using the low fat variety of ricotta and mozzarella. I have found them to be just as good as the higher fat versions.
Directions
Heat the oil in a large sauce pan over medium heat add the sausage and cook until lightly browned, about 10 minutes, breaking it apart as you go and set aside reserving the remaining oil and grease.
Add the onion and saute until tender, about 5-7 minutes.
Add the garlic, red pepper flakes and fennel and saute until fragrant, about a minute.
Add the chicken broth, tomatoes, tomato paste, sausage, oregano, bay leaf, salt and pepper, bring to a boil, reduce the heat and simmer for 30 minutes. (If you have the time this soup will benefit from being simmered longer.)
Add the pasta and cook until al-dente, about 7 minutes and remove from heat.
Mix the ricotta, parmesan and mozzarella and serve the soup garnished with a tablespoon of the mixture along with the basil.