Party Time Jalapeno Popper Stuffed Buffalo Chicken Meatballs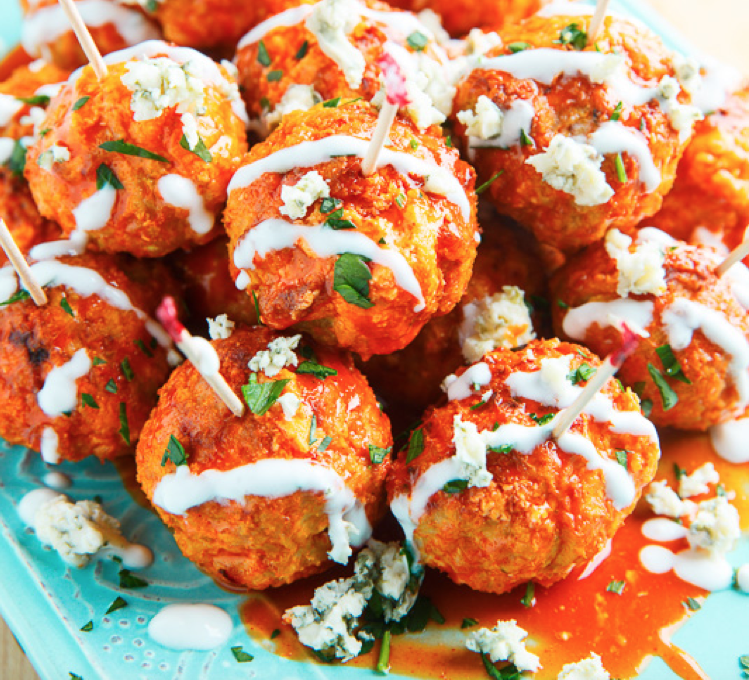 |
These delicious Jalapeno Popper Stuffed Buffalo Chicken Meatballs are the perfect party finger food!
Kevin's brilliant recipe combines the tastes of jalapeno poppers and buffalo chicken wings rolled into yummy meatballs.  He wraps the well seasoned ground chicken around chopped jalapenos, cream cheese, cheddar cheese and bacon…wow!  He then garnishes this with ranch dressing and crumbled blue cheese.  It doesn't get any better than this.
Skewer these delicious bites with a toothpick and your party is ready to go!

Prep Time: 10 minutes Cook Time: 20 minutes Total Time: 30 minutes Servings: 6 (18 meatballs or 6 –  3 meatball servings)
 Ingredients
1 pound ground chicken
1 large egg
1/3 cup onion, finely minced
1/3 cup celery, finely minced
1/3 cup carrot, finely minced
1 clove garlic, chopped
1/2 cup panko crumbs
salt and pepper to taste
4 ounces cream cheese, room temperature
1/2 cup cheddar cheese, shredded
2 tablespoons jalapenos, diced
2 tablespoons bacon, cooked and crumbled
1/3 cup buffalo hot sauce**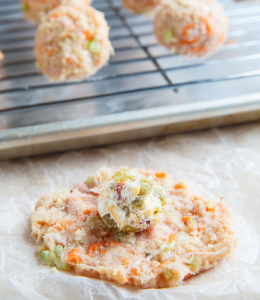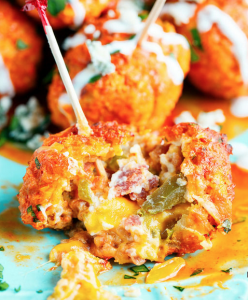 Directions
Mix the ground chicken, egg, onion, celery, carrot, garlic, breadcrumbs, salt and pepper.
Mix the cream cheese, cheddar cheese, jalapenos and bacon.
Roll the chicken mixture into balls, one tablespoon at a time, flatten them, placing one teaspoon of the cheese mixture into the centres of the chicken patties, wrapping the them around the filling and placing them on a baking sheet.
Bake in a preheated 400F/200C oven until cooked and lightly golden brown, about 20 minutes.
Toss the meatballs in the buffalo hot sauce and enjoy!
Option: Serve topped with or dipped into ranch or blue cheese dressing.
Option: Add 1-2 tablespoons crumbled blue cheese to the filling mixture.
Option: Coat in panko breadcrumbs and fry in oil until golden brown and crispy for the ultimate experience!
Option: Transfer to a slow cooker on the keep warm setting to keep them warm until the game.
Nutrition Facts: Calories 259, Fat 17g (Saturated 7g, Trans 0), Cholesterol 127mg, Sodium 553mg, Carbs 6g (Fiber 0.5g, Sugars 1g), Protein 18g
**Note from Yummy Tummy Zone:  You can use store bought buffalo hot sauce or check out this recipe
here.