Hello Hot Cheesy Corn Dip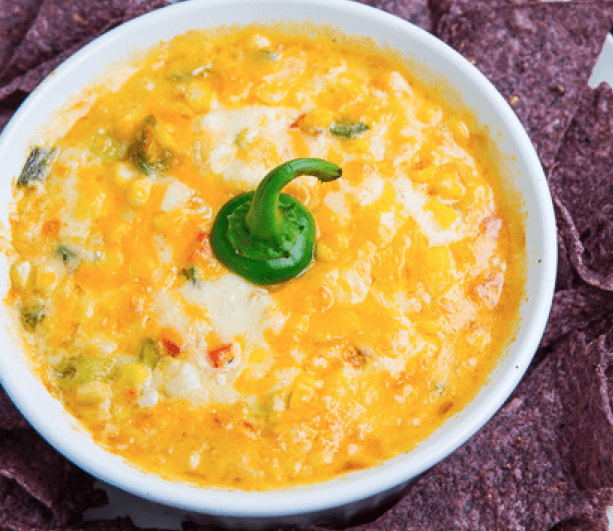 |
Discover a new favorite with this Hot Cheesy Corn Dip.
How good does this look!  Sweet caramelized corn and melted Monterey Jack and Cheddar Cheese.  If you can get it, use fresh corn, but if not, canned or frozen will work well too.  And I think putting the jalapeno pepper top in the center of the dip makes it fun and gives people an inkling of what's in store for them when they taste this delicious dip.
I would serve this surrounded by thick tortilla chips that won't break easily when you are scooping up all this goodness.
Consider making extra because this yummy dip will go fast.
Hot Cheesy Corn Dip
Prep Time: 10 minutes Cook Time: 25 minutes Total Time: 35 minutes Servings: 6
Ingredients
1 tablespoon butter
2 cups corn (fresh, thawed frozen or drained canned)
1 tablespoon butter
1/2 cup onion, diced
1/4 cup red bell pepper, diced
2 green onions, sliced
1 jalapeno, finely diced
1 clove garlic, chopped
1/4 cup mayonnaise
1/2 cup monterey jack cheese, shredded
1/2 cup cheddar cheese, shredded
salt, pepper and cayenne to taste
Directions
Melt the butter in a pan over medium-high heat, add the corn, saute until the corn starts to turn golden brown, about 5 minutes, and set aside.
Melt the butter in the pan over medium-high heat add the onion, and pepper and saute until the onions are soft, about 3-5 minutes.
Add the green onion, jalapeno and garlic and saute until fragrant, about a minute.
Mix the corn, onions, peppers, mayonnaise, cheeses and cayenne in a bowl, reserving some of the cheese.
Pour the mixture into a baking pan and top with the reserved cheese.
Bake in a preheated 350F/180C oven until bubbling on the sides and golden brown on top, about 10-20 minutes.
Slow Cooker: Optionally implement steps 1-3, mix everything, place it in the slow cooker and cook until the cheese is nice and melted about 1-2 hours on high or 2-4 hours on low.
Tip: Assemble the dip the day before and bake it on the day that you serve it to save some time. The bake time will be 10-15 minutes longer when baking right out of the fridge.