Fun Fiesta Fish Taco Bowl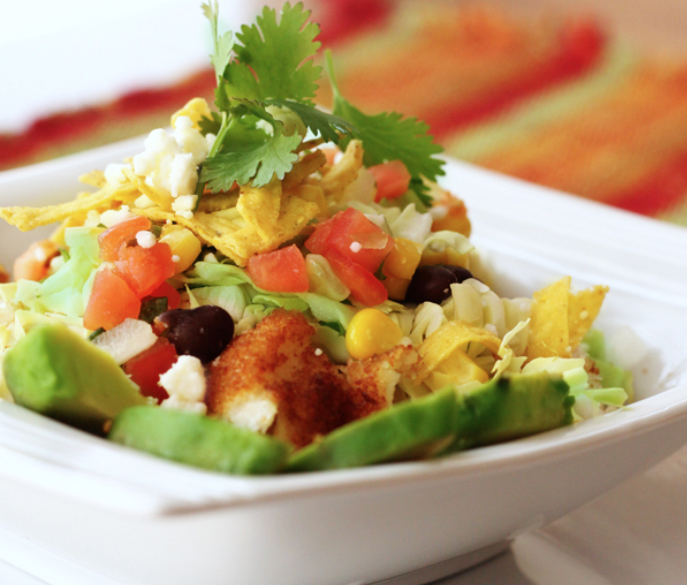 Fish Taco in a Bowl, brilliant!
If you're like me, you love fish tacos but they're kind of messy to eat.  Problem solved with this yummy Fish Taco Bowl.
While this recipe is great just the way it is, you might also want to try it sometime with this Easy Enchilada Rice recipe.  In the Enchilada Rice recipe, the beans and corn are already combined.
Whatever you decide, the combination of rice with the tilapia, cabbage, tortilla strips and avocado is sure to be delicious.  Enjoy!
Fiesta Fish Taco Bowls
Ingredients
1/4 c. taco seasoning
1 Lb. tilapia fillets (about 4-5)
2 Tbsp. vegetable oil
1 onion, diced
1 tsp. garlic, minced
1 (15 oz) can black beans, drained and rinsed
1 c. fresh corn kernels (it is best if you cut it straight from the cob after being steamed for a minutes of two)
2-3 c. cooked rice
1/2 c. cilantro dressing (click here for the recipe I used) or chipotle ranch dressing
1 avocado, pitted and diced
1 c. cabbage, shredded
1 c. tortilla strips
Optional:
salsa, sour cream, tomatoes, cilantro, limes, cotija or feta cheese
Instructions
Generously rub each tilapa fillet with taco seasoning. Heat oil in a large skillet (medium heat) and add tilapia. Fry on each side for about 4-5 minutes or until cooked through (you know it is done when it flakes easily and is white all the way through). Remove fish from skillet and cut or flake into pieces, set aside and cover with aluminum foil to keep warm.
In the same pan, add garlic and onion (add a little more oil if you need to) and saute for a minute or two until onion is soft.
Add black beans and corn and saute another couple minutes.
In each bowl, layer rice, cooked fish, cilantro dressing, corn/black beans, avocado, cabbage and tortilla strips. Add any other additional toppings you would like!