Family Favorite Fiesta Ranch Chicken Casserole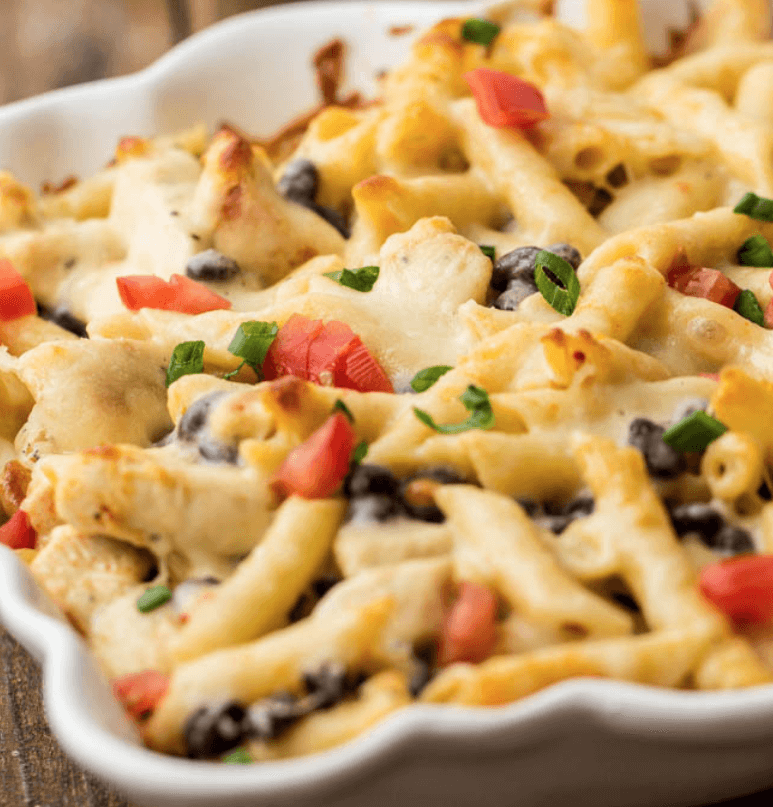 You will probably get requests to make this creamy Fiesta Ranch Chicken at least once a week.
The rich Alfredo type sauce is already delicious but adding the Hidden Valley Fiesta Ranch Dip mix makes it even tastier.  You will get your protein in this casserole from both chicken and beans.  You can add some chopped tomatoes for your veggie or serve your favorite vegetable on the side.
Our family loves this dish and I have a feeling yours will too!
Fiesta Ranch Chicken Casserole
Prep time      20 mins
Cook time     25 mins
Total time     45 mins
Serves:             8
Ingredients
2 cups cubed, cooked chicken (about 3 chicken breasts)
1 (16 oz) box Penne Pasta
1 pint heavy whipping cream
4 oz cream cheese
½ cup grated parmesan cheese
1 packet Hidden Valley Fiesta Ranch Dips Mix
1 (15 oz) can black beans, drained and rinsed
2 cups Mozzarella cheese, shredded
Optional Toppings:
 
Sliced Green Onions
Diced Tomatoes
Instructions
Preheat oven to 350 degrees. Prepare a 9×13 inch baking dish and spray with cooking spray. Set aside.
Cook pasta according to package directions. Drain.
In a medium saucepan add heavy whipping cream and cream cheese. Heat over medium heat stirring until cream cheese has melted. Whisk in grated parmesan cheese. Whisk in fiesta ranch packet.
In a large mixing bowl, add drained pasta and sauce. Toss noodles until coated. Add chicken and black beans. Spoon mixture into prepared pan. Top with mozzarella cheese. Bake for 20-25 minutes until heated through and top is bubbly. Add optional toppings.