Egg Foo Young Anyway You Want It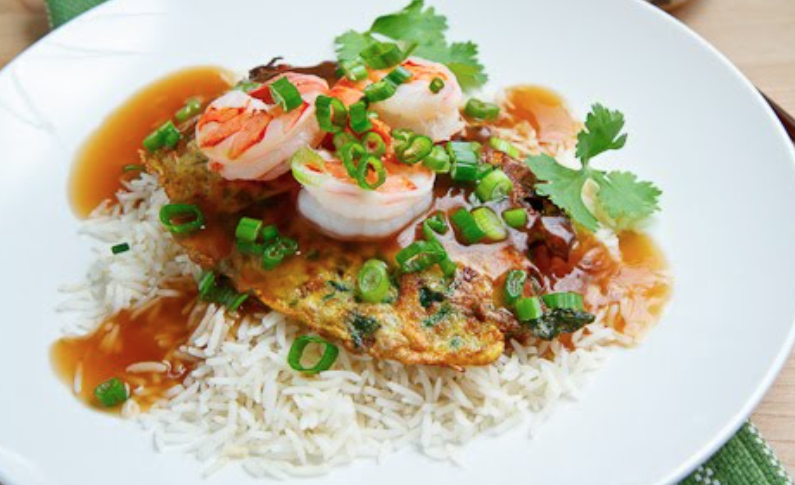 Egg Foo Young is a Chinese omelette stuffed with vegetables.
The base of the pancake batter is usually filled with bean sprouts, cabbage, water chestnuts and onions.  But you don't want to stop there!  You can also add cooked ham, shrimp, chicken or beef or even a combination of them.  Once your pancakes are made, you can top them off with additional shrimp, chicken, ham or beef or a few big mushroom slices.
You can eat the Egg Foo Young as you've prepared it or you can serve it over rice with some delicious broth/gravy poured on top…yum.  The recipe below includes the recipe for the flavorful broth too.
Enjoy this dish to celebrate Chinese New Year or any time of the year.
Egg Foo Young
Prep Time: 10 minutes
Cook Time: 20 minutes
Total Time: 30 minutes
Servings: 2
Ingredients
3/4 cup bean sprouts
1/4 white onion, diced
1/2 cup zucchini, grated
1/4 cup carrot, grated
3/4 cup bok choy or spinach, thinly sliced
1/2 cup shiitake mushrooms, thinly sliced or shrimp or meat of choice
1 small clove garlic, grated
1 teaspoon ginger, grated
1/2 teaspoon salt
1 cup broth*
1 tablespoon soy sauce
1 tablespoon rice wine or dry sherry
1 tablespoon mirin
1 tablespoon cornstarch
1 tablespoon water
1/2 teaspoon sesame oil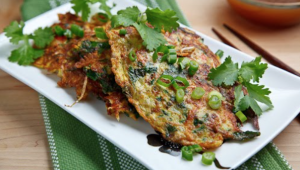 **1 handful cilantro, chopped
**3 eggs, lightly beaten
1 tablespoon oil
Directions
Mix the bean sprouts, onion, zucchini, carrot, bok choy, mushrooms, garlic, ginger and salt in a large bowl and set aside.
Bring the broth to a boil, reduce the heat and simmer adding the soy sauce, rice wine and mirin.
Mix the cornstarch into the water, add it to the gravy and simmer until it thickens.
Mix in the sesame oil reduce the heat to low to keep it warm while you cook the omelettes.
**Squeeze any excess liquid from the vegetables, drain and mix with the cilantro and eggs.
Heat the oil in a pan over medium heat.
Pour 1/3 cup of the mixture into the pan and cook until golden brown on both sides, about 3-4 minutes per side. Note: If the egg starts to spread out, push it back in with a spatula.
Serve over steamed rice and top with the gravy and extra vegetables if desired.
*Note from yummytummyzone.com :  I don't see it mentioned in the recipe, but I would use chicken broth as a base for the 1 cup of broth although vegetable or beef broth would probably work well too.